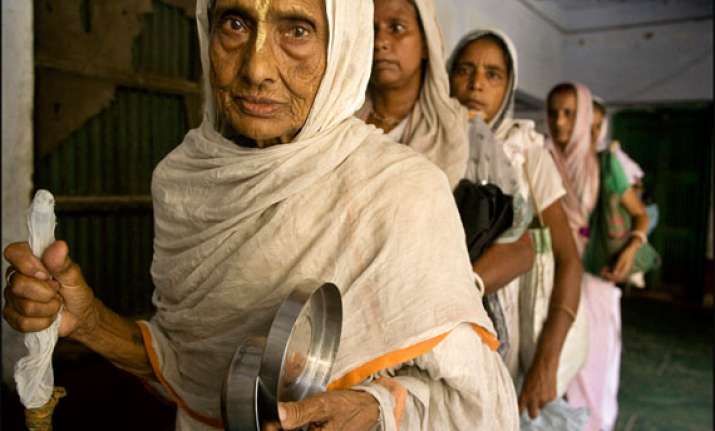 Vrindavan Feb 24: Hundreds of widows of Vrindavan, who have lived a life of penury, earning a meagre 5 rupees each day for singing early-morning bhajans at temples here, now have a life of dignity, thanks to non-governmental organisation Sulabh International.
Sulabh, a leading campaigner for sanitation, has decided to take care of the basic needs of the Vrindavan widows, from food to healthcare.
Only six months ago, many widows, in their traditional white cotton saris, could be seen moving from temple to temple with begging bowls, chanting "Radhe, Radhe". Poor and malnourished, many of these women in the holy city of Lord Krishna were just skin and bone.
Things are changing, though, in a place that has earned a dubious reputation as a City of Widows.
"These days, you won't find old women at every nook and corner, except the few who cannot shake off old habits. Now, the widows spend their time in ashrams, no more begging on the streets. They watch TV and chant bhajans within their ashrams, where they are provided basic amenities," a resident of the city and music maestro Acharya Jaimini told IANS.
The change is thanks to the initiatives of Sulabh International, whose founder, Bindeshwar Pathak said Sunday that more than 800 widows have registered at the two government shelter homes; each of them will be given Rs.2,000 per month, for basic needs.
The initiative comes in the wake of a Supreme Court order of August 2012.
Justices D.K. Jain and Madan B. Lokur had directed the Uttar Pradesh government in August last year to ensure at least proper cremation and last rites for the 'Vrindavan widows', in keeping with their religious beliefs.
The bench also issued directions that the widows receive immediate relief, including proper food, regular visits from doctors of the Mathura civil hospital, and homes with adequate sanitation.
The apex court directed the centre to play a proactive role in the matter.
The apex court had suggested that International Society for Krishna Consciousness (ISKON) and NGO Sulabh International could be contacted to extend help to the 1,790-odd poor widows living in deplorable conditions in the four government shelters of Vrindavan.
"The idea is to ensure that widows living in the government-run shelters in Vrindavan should not be forced to beg or go to bed hungry," Bindeshwar Pathak told IANS, adding that Sulabh had decided that a sum of Rs.2,000 would be given to each of these widows a month.
The money would be paid by Sulabh, which has been paying the widows Rs.1,000 each per month since last year.
The apex court had expressed shock that the bodies of two widows who had died at the government homes were chopped and the pieces put into gunny bags for disposal in the Yamuna, on the plea that there were inadequate funds for proper cremation rites.
Sulabh has also handed over five well-equipped ambulances for the exclusive use of the widows. The NGO has gifted the Vrindavan widow shelter homes medical equipment and television sets too.
The NGO also plans an education programme to restore the women's confidence. The widows have started learning Hindi, English and Bengali. The four widows who died at these homes since the NGO began its initiatives here last year were accorded final rites in accordance with Hindu custom.
Sulabh has also donated 50 sewing machines, and some women have begun to use these to earn a living. Besides, they also make Agarbatti (incense sticks) and flower garlands for sale.
Sulabh is renowned for freeing large numbers of people from the scourge of lifting night soil. "That experience came handy here," the 70-year-old Pathak, who launched Sulabh decades ago, said, explaining that people freed from toiling with night soil had been rehabilitated in some measure through education and vocational training.
"We are using our vast experience here in Vrindaban and want to see that the widows no longer live as an unwanted burden on the society," Pathak said.
Although Sulabh has taken up the initiative without much support, Pathak says: "We will approach the central as well as state governments and big corporate houses for help. The idea is to ensure a dignified life to the widows."