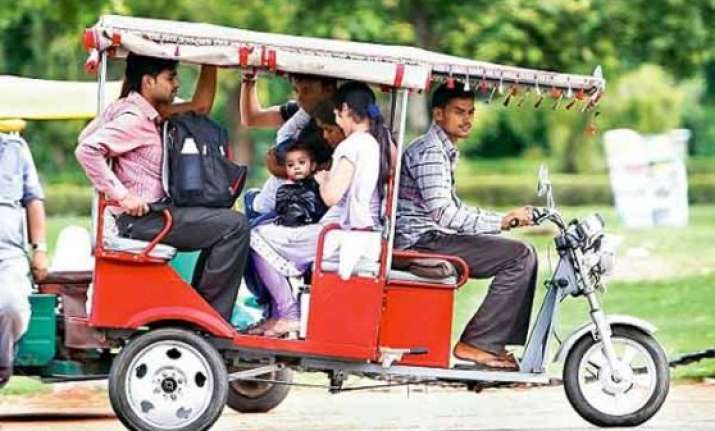 New Delhi: A study on e-rickshaws has recommended that the battery-operated vehicles be treated as motor vehicles.
"All the e-rickshaws tested on the field had motor power in excess of 250 Watts and a few e-rickshaws showed speed level above 25 kmph while others had speed in the range of 20-25 kmph. Based on the above results, TERI recommended treating these e-rickshaws as motor vehicles," the study conducted by The Energy and Resource Institute (TERI) said.
A bill, Motor Vehicles Amendment Bill, 2014, to regularise e-rickshaws and provide for driving licences for battery-operated vehicles has already been introduced in the Lok Sabha.
E-rickshaws or battery-operated vehicles were banned by the Delhi High Court on safety concerns.
Earlier the Delhi Transport Department had commissioned The Energy and Resource Institute (TERI) to do a study on the battery operated three wheeler vehicles.
TERI tested 53 E-rickshaws and in all 53 cases, where power measurement was possible, the readings showed that the power of E-rickshaws was more than 0.25 kW, the study said.
It added that the State Urban Development Agency (SUDA), UP also proposed to the Automotive Research Association of India to replace the traditional rickshaws with battery operated E-rickshaws in the interest and welfare of the poor rickshaws pullers health and quality of life.
"SUDA was also concerned about the poor rickshaw pullers and was proposing to enable the poor rickshaw puller to upgrade to battery operated E-rickshaws," the study said.
The Motor Vehicles Amendment Bill, 2014 seeks to remove difficulties in granting licence to drivers of e-rickshaws and e-carts by amending Section 7(1) of the Motor Vehicle Act, 1988, and adding the definition of e-rickshaw and e-cart in the Act.
Once the bill is passed, e-rickshaws will be a legal entity and any driver passing the driving test would be granted licence.
The government in October had notified the rules for plying of e-rickshaws making driver's licence mandatory for operating them and limiting the maximum speed to 25 kmph.
The government had notified the Central Motor Vehicles (16th Amendment) Rules, 2014, which paves the way for plying of special purpose battery-operated vehicles.