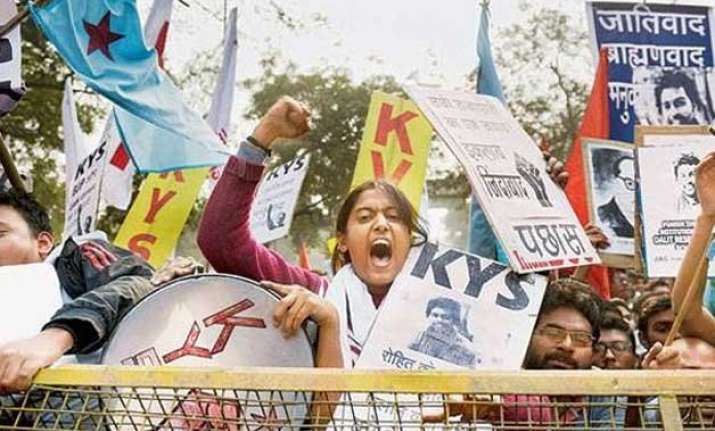 New Delhi: Agitated over the alleged assault on student protesters by police, students from various universities across Delhi today staged a protest outside police headquarters here blocking the traffic at ITO.
A video of police thrashing a group of students with sticks and fists and dragging women by their hair outside RSS headquarters here during a protest over Dalit student Rohith Vemula's suicide had triggered widespread outrage with Congress and AAP seeking action against the erring cops.
The students from Krantikari Yuva Sangathan (KYS) and Left-backed All India Students Association (AISA) staged a demonstration outside the police headquarters demanding action against the cops who allegedly assaulted the protesting students.
"Government is not listening to our demands, police is attacking us, where are the students supposed to go? Hang ourselves like Rohith did and succumb to their atrocities?," said JNU Students Union Vice President Shehla Rashid Shora.
A KYS protester said, "The police commissioner needs to tell the country why cops behaved in this manner and on whose instructions they did so. They were so prompt in taking action against the students, why is the top cop not acting against his own policemen now?"
The protest by the students caused traffic jam at the ITO stretch as they did not allow the vehicles to move ahead.
The students alleged that they have been treated in similar manner by the police whenever they have tried to stage any demonstrations and raise their voice against any issue.
"Be it the 'Occupy UGC movement' or protests against sexual harassment by any professor, we always had to face similar crackdown from police. So many times we tried to go to the HRD Ministry but we were not even allowed to submit memorandums," said Sunny Kumar, a protester.
The students from Jawaharlal Nehru University had decided to go on an indefinite hunger strike last week when they were detained from outside HRD Ministry for staging a protest there against the alleged delay in justice to Vemula, a Dalit PhD scholar who was found hanging at Hyderabad Central University's hostel on January 17.
The protesting students have been demanding the resignations of Union ministers Smriti Irani and Bandaru Dattatreya and the Vice-Chancellor of Hyderabad University over the issue.
The students also alleged the police is acting at the behest of Centre as two of its ministers are facing flak over the issue.
"We demand independent probe into the issue. The video is very clear where police and RSS goons assaulted students then why Bassi is taking so much time to act," asked 25-year-old Dinesh.
Another protester Nikita alleged, "Delhi Police has shown that its original colour is not khakhi but saffron. They are the private army of the Central government which thrashes protesting students demanding justice".
"The entire country is aware of our demands that Smriti Irani, Dattartreya and VC must resign immediately instead of crackdown on students," said Ritesh.
RSS had yesterday rejected allegations that some of its workers were involved in thrashing a group of student protesters along with police personnel outside its headquarters.
Watch video: