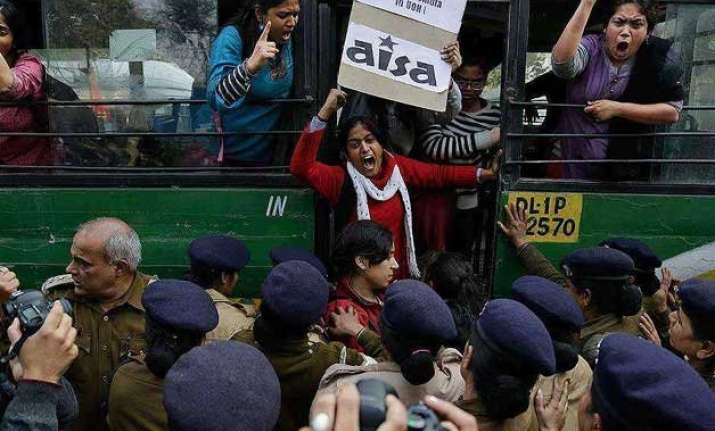 New Delih: Delhi Police today came under severe criticism after a video emerged in which its personnel were seen thrashing protesters and dragging female activists by their hair outside the RSS headquarters here during a demonstration against dalit student Rohith Vemula's suicide.
The video of Saturday's incident went viral on social media, triggering sharp reactions, with Delhi Chief Minister Arvind Kejriwal alleging the police force was being used as RSS and BJP's "private army" under a political dispensation that is at "war" with students across the country.
Two journalists, who have alleged they were beaten up while covering the protest, claimed the police action was "unprovoked" and that the protesters were beaten up mercilessly.
In the 30-second clip, apart from police, some men in civilian clothes are also seen beating up the protesters.
The student protesters were holding a demonstration outside the RSS office at Jhandewalan in central Delhi demanding justice for Vemula, the Hyderabad university research scholar whose suicide last month triggered nationwide outrage.
In the video, a constable is seen dragging a woman protester by hair and pushing her down when she remonstrated against the assault on a fellow demonstrator.
Reacting to the video, Delhi police Commissioner BS Bassi said he has directed senior officials to investigate the matter and see if there were any "indiscretions".
"As soon as I was informed about the video, I spoke to Special Commissioner of Police (Law and Order) Deepak Mishra, who later asked Joint Commissioner (Central range) S K Gautam to look into the matter.
"We will see if there was any indiscretion. We shall also talk to some of the eyewitnesses apart from analysing the content of the video," Bassi said.
Addressing a press conference, AAP leader Sanjay Singh alleged BJP and RSS workers were also involved in assaulting the students along with police.
Congress called it a "brutal assualt" by police on a group of "unarmed protesters" and demanded action against guilty policemen.
Kejriwal, who is undergoing naturopathy treatment in Bengaluru, condemned the police's alleged highhandedness, including with women.
"Delhi Police being used by BJP/RSS as their private army to terrorize and teach lesson to anyone opposing BJP/RSS. I strongly condemn attack on students.
"FTII, Rohith case, Hyderabad University, IITs and now brutal attack on Delhi students. Modi govt seems to be at war with students all across," Kejriwal tweeted.
One of the journalists who was allegedly beaten up, said, "I had gone to cover the protest and found myself being assaulted by members of Delhi Police who also shattered my camera. These policemen were aggressive, possibly because I was shooting pictures at the back of the rally.
"Male personnel manhandled the female students, dragging and pushing them, scenes that I was about to capture with my camera. This was when the police attacked me," he claimed on a news portal.
He and another photojournalist, who was also covering the protest, claimed their cameras were snatched away and smashed by police.
"This kind of police brutality on unarmed students is unacceptable. We strongly condemn it and guilty policemen must be punished," DPCC President Ajay Maken said.
AAP leader Sanjay Singh also demanded Prime Minister Narendra Modi's intervention in ensuring punishment to erring police personnel.
"This shows the cruel face of the Delhi Police where even women protesters were assaulted. This has been happening in the national capital. During the (Delhi assembly) election campaign, the Prime Minister had said that he stays in Delhi and it is his home. So how can he then allow attack on women by his police?
"The PM should intervene as he talks about Selfie with Daughter, talks about the security of women from the Red Fort. If his police is assaulting women, there can't be anything more serious," he said.
The AAP leader said Delhi Police owes an explanation for the "attack".
"The BJP and RSS too was assaulting the protesters. The police is acting at the behest of the Sangh," Singh alleged.
Watch video: