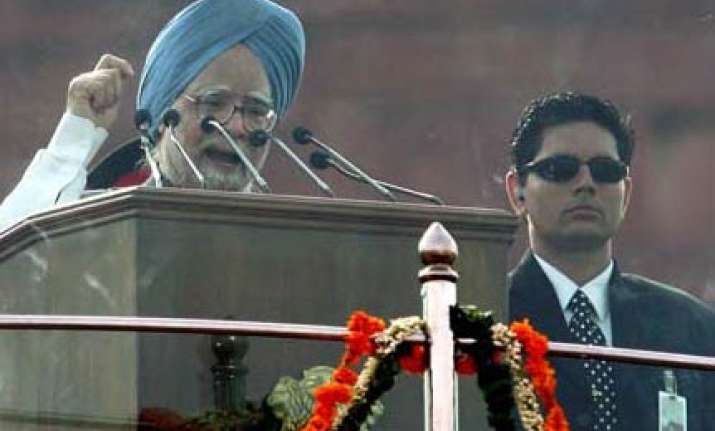 New Delhi :  Prime Minister Manmohan Singh on Sunday said he wanted to resolve differences with Pakistan through dialogue but much progress cannot be made unless terrorism emanating from its territory ends.
"Whatever differences we have with our neighbouring countries, we want to resolve them through discussions. As far as Pakistan is concerned, we expect from them that they would not let their territory be used for acts of terrorism against India," Singh said addressing the nation from the ramparts of the majestic Red Fort on the 64th Independence Day.
He said India has been emphasising this in all its discussions with Pakistan.  
"If this is not done, we cannot progress far in our dialogue with Pakistan," Singh said.  
He underlined that India wants prosperity, peace and harmony in its neighbouring countries.  
Following are other highlights from Manmohan Singh's speech:  
-Government to constitute two separate councils in higher education and health to speed up reforms.
-Government making every possible effort to tackle high inflation
- PM confident that we will succeed in tackling high inflation.
-We need to work harder to increase the agricultural growth rate to four per cent per annum
-Tribals should be given adequate compensation for land acquired from them and stake in the development projects being undertaken
-It is the poor who are the worst affected by rising prices
-Despite many problems, India's economic growth rate better than most other countries.
Recalling his recent talks with political parties in Jammu and Kashmir, the Prime Minister said it would be his endeavour to take this process forward and the government was ready to talk to every person or group which abjures violence. 
Asserting that Kashmir was an integral part of India, Singh said, "Within this framework, we are ready to move forward in any talks which would increase the partnership of the common man in governance and also enhance their welfare." 
He expressed "deep regret" over the recent cycle of violence in Jammu and Kashmir in which young men lost their lives. 
"The years of violence should now end. Such violence would not benefit anyone. I believe that India's democracy has the generosity and flexibility to be able to address the concerns of any area or group in the country," Singh said. 
In an apparent reference to the economic blockade of Manipur, the Prime Minister said such "unpleasant incidents" can only harm the country. 
He underlined that discussion and dialogue were the only options to resolve complex issues and offered to take forward every process of talks which could lead to progress in resolution of problems. 
"I would like to convey to our countrymen, especially our citizens in Jammu and Kashmir and in the North East, that they should adopt democratic means to join hands with us for their and the country's welfare," Singh said.
The Prime Minister said naxalism has emerged as a serious challenge to internal security and there was need to rise above "personal and political interests" to tackle the menace.
Dwelling in detail on the naxal menace, the Prime Minister asked the rebels to abjure violence and come for talks with the government.
"I once again appeal to naxalites to abjure violence, come for talks with the Government and join hands with us to accelerate social and economic development," he said.
At the same time, he said that his government will deal firmly with those who resort to violence.
"We will provide all possible help to State Governments to maintain the rule of law in areas affected by naxalism," Singh said.
Noting that most of the naxal affected areas are dominated by adivasis (tribals), he said it would be the endeavour of his government that they join the mainstream of development.
"They have been dependent on forest produce for centuries and this dependence should not end without the creation of new sources of livelihood.
"Apart from adequate compensation for land which is acquired from them, we should also ensure that our adivasi brothers and sisters have a stake in the developmental project being undertaken," the Prime Minister said.
Singh said he had asked the the Planning Commission to formulate a comprehensive scheme in this regard, which the government would implement fully.
The Prime Minister also asked officials serving in naxal affected areas to be "more sensitive".
"The government officials who work there should not only be sincere but should also be alive to the special needs of our adivasi brothers and sisters," he said.
Observing that his government wanted the fruits of development to reach the 'aam aadmi', the Prime Minister said that his government has initiated programmes specially targeted to the welfare of the socially and economically backwards sections of the society.
He said the government stood committed to the welfare of the poor, Scheduled Castes and Scheduled Tribes, minorities, women and other backward sections of the society.
"But today we do not need many new programmes to achieve our goals. However, we do need to implement the schemes we have already started more effectively, minimising the chances of corruption and misuse of public money," Singh said.
Underlining the importance of improving the quality of health and education, the Prime Minister announced constitution of two separate councils for higher education and health to accelerate reforms in these sectors.
"We will soon bring a Bill to Parliament for constitution of two separate councils in higher education and health respectively so that reforms in these two areas can be accelerated," he said.
Singh noted that the Government has enacted the Right to Education which will help every Indian to share the benefits of the country's economic progress and also to contribute to it.
The Prime Minister said his government had also taken initiative for reservation for women in Parliament and in State legislatures to ensure equal partnership of the fairer sex in the country's progress.