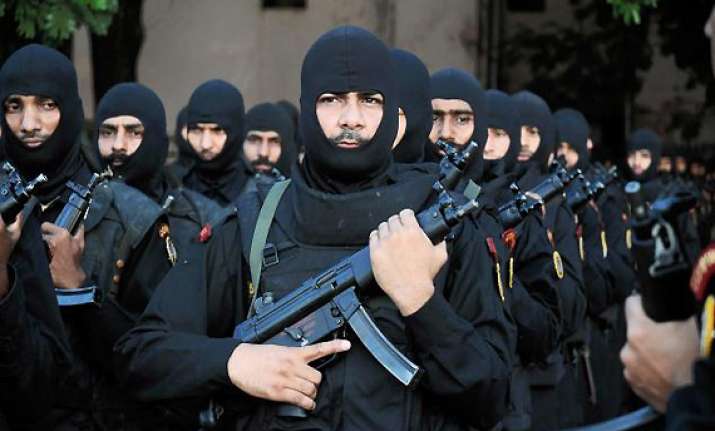 Gurgaon, Feb 15: The National Security Guards has alerted all its commando squads guarding VVIPs and will soon bring out new security drills following the recent terror attack on an Israeli embassy vehicle using a stealthily stuck bomb device on its rear.

"We have already alerted our people (guarding VVIPs) that this is what has most likely happened and immediate action we have taken...but this is not enough. We have to really study it (the February 13 incident here) and make a standard operating procedure so that everybody acts in a uniform way (during such an attack)," NSG Director General R K Medhekar said on the sidelines of a 'bomb data' seminar at the forces' garrison in Manesar here.




The elite 'black cats' of the National Security Guard (NSG) secure 15 VIPs/VVIPS at present.

"Since we are protecting very important, very vulnerable targets, we are working on modifying our SOPs to handle this (sticking bomb act) also...both in terms of preventing and should it happen... We are able to gather data on what happened... We are looking into it," Medhekar said. 

The DG said that the NSG 'black cat' commandos on VVIP duties have already enhanced their security responses as soon as they were informed about the incident.




"In fact the moment it happened we had a little bit of brainstorming in our own headquarters and we are working out how atleast we will try to prevent such a thing from happening (for NSG protectees)," the NSG chief said. 

The wife of an Israeli diplomat, travelling in an Innova car, was severely injured while three others suffered minor injuries in the incident which happened after a bike borne unidentified person stuck a magnetic bomb device in the embassy car as it waited on a traffic signal in the highly secure area of the national capital, close to the Prime Ministers residence.




The DG said his force has mutually shared a lot of information on counter-terror and counter-hijack operations and strategic drills during the last year ministerial level meet with a high-level Israeli delegation.

"They have shared a lot of things which I cannot discuss.  The very fact that their minister-level delegation which came last year to India, is important. The delegation was led by the Israeli Minister for Public Safety, who is an ex-commando himself, and included his military adviser.... They had an one-to-one meet with Union Home Minister P Chidambaram. For us, what was very significant was that they insisted on a visit to Manesar (NSG garrison where commandos are based) and have discussions with us....They discussed issues on counter-terrorism and counter-hijacking. The (Israeli) Minister himself spent two hours with us," the NSG chief said. 




While inaugurating a multi-country conference on 'emerging trends of terrorism in India with special emphasis on defeating IED attacks', Medhekar said that the recent Israeli SUV bomb incident was an innovative act by the perpetrators of terror.

"The car bomb incident that occurred in our capital city on February 13 when a diplomat's vehicle was targeted apparently by a motorcyclist bomber who attached a bomb to the vehicle is indicative of the innovation that the terrorist adopts," he said while addressing delegates from Russia, UK and France including from various investigation, intelligence and security forces of the country.




DG Medhekar, while addressing the conference, said indigenous methods have to be developed to combat security and terror threats.

"Most internal security threats that the country is facing today are either sponsored, guided, inspired or even supported directly by external forces with links to sleeper cells within our country or by home grown movements. We need to gear up to face the challenges that exist and those which can manifest themselves in the future. We cannot wish away such threats nor overly depend on external assistance in facing these challenges," he said.