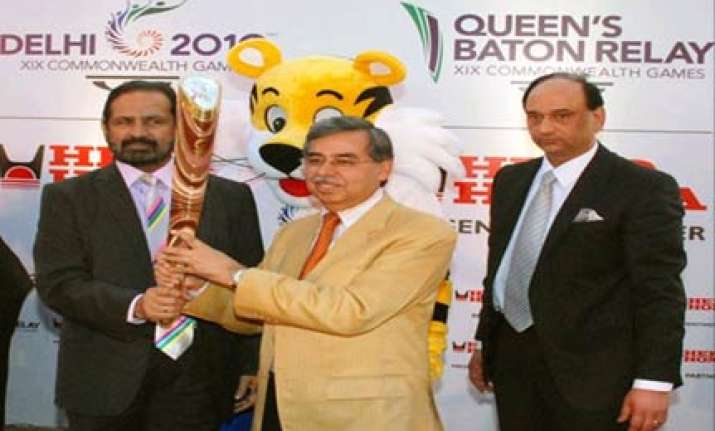 New Delhi : The Sports Ministry appears headed for an all-out confrontation with the Commonwealth Games Organising Committee (OC), with the former, late on Sunday night, writing to Suresh Kalmadi to immediately relieve two top OC officials of all their duties, reports The Indian Express.
The names of OC joint director general T S Darbari and deputy director general Dr Sanjay Mohindroo cropped up last week in what the ministry has described as "alleged irregularities" for services provided during the Queen's Baton Relay. The ministry has been categorical in its advice to dispense with the services of Darbari, who heads the OC's revenue and marketing units, Dr Mohindroo, in charge of its marketing and technology sections.
The latest missive to Kalmadi, written by Sports Secretary Sindhushree Khullar states: "With the Games just two months away, matters such as the above (the UK payments and an alleged Customs inquiry against Darbari) raise questions of probity and integrity of officers in the OC. They tarnish the image of the Games and adversely affect its credibility... I would strongly advise you that the above two officers should be immediately relieved of all their duties in the OC and the Government informed accordingly..."
As is evident from the contents of the August 1 letter, the ministry is now reiterating its earlier "advice" to the OC for terminating at least the services of Darbari. Though the government has appointed a panel of senior bureaucrats on the OC, the ministry has no administrative control over it.
Following a report in The Indian Express, the ministry had first written to the OC on February 11, regarding the alleged Customs violation committed by Darbari. In that letter, the ministry had first asked the officer to be immediately relieved of all his charges, which include handling the revenue and marketing units of the OC.
On April 20, a Joint Secretary in the ministry had written to the OC that Darbari should not be included in the team touring Australia with the Queen's Baton Relay since the Customs case against him was pending. The same advice was repeated by the Ministry in letters dated April 23 and April 28.
The Ministry has also referred to the April 29 letter written by Kalmadi stating that no charge had yet been proven against Darbari as well as the May 7 communication received by them from Revenue Secretary, Sunil Mitra on developments in the Customs case. That letter, available with The Indian Express, gives details of the allegations against Darbari and states that investigations in the case were still in progress."
The Ministry has stated that they have taken serious note of the latest media coverage of the alleged irregularities in payments to a UK firm for services provided for the launch of the relay in October 2009 in which the "involvement" of Darbari and Mohindroo have cropped up.
"This matter has been referred to the Government by the HM Revenue and Customs Department of the UK, through the Indian High Commission in London," it has noted. While Kalmadi was not available for comments, Darbari said: "I am just a third-party and have no connection with the Customs recovery. If someone names me as the buyer after he is arrested by and my name is found on an invoice, what can I do?"