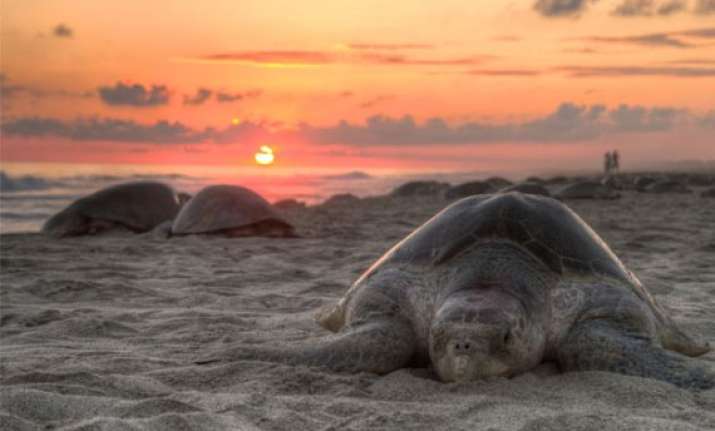 Kendrapara (Odisha): Ahead of the mass nesting of Olive Ridley turtles, wildlife officials have detected sporadic nesting by them at Gahirmatha nesting ground in Odisha, the world's largest known rookery of these marine animals.
During January-February each year, Olive Ridley turtles turn up in millions for laying eggs along the Gahirmatha beach in the district.
"Small group of turtles have crawled their way to the nesting beach at Nasi-2 Island and have begun laying eggs.  
Sporadic nesting of turtles is a positive sign and is a prelude to en-masse emergence of turtles for laying eggs," said Divisional Forest Officer, Rajnagar Mangrove (wildlife) Forest Division, Kedar Kumar Swain.  The officials are optimistic about occurrence of mass-nesting or 'arribada' within next 50 to 60 days, he added.  
The female turtles virtually invade the nesting beaches, usually at the dead of the night, for laying eggs, the phenomenon described as 'arribada'.  
After laying eggs, the turtles leave the nesting ground to stride into the deep sea water. Hatchlings emerge from these eggs after 45-60 days.
It is a rare natural phenomenon where the babies grow without their mother, officials said.  Swain said the ground-level staff is maintaining vigil on the beach to save the nests from predators like wild dogs, hyenas and jackals.
These endangered marine species had skipped the mass nesting trip to Gahirmatha last year. The turtles had skipped mass nesting at the beach in 1996, 1997, 2002 and 2008, Swain added.
The behaviour and habitation pattern of these turtles are shrouded in mystery.
Research is yet to throw much light on them. They continue to prefer Odisha coast for breeding and nesting but not much is known about their destination once they leave the Odisha coast after laying eggs, Swains said.  
Turtle protection squads are on the job to guard the marine sanctuary seawaters, with fishing activities being banned to ensure the safety of breeding turtles.