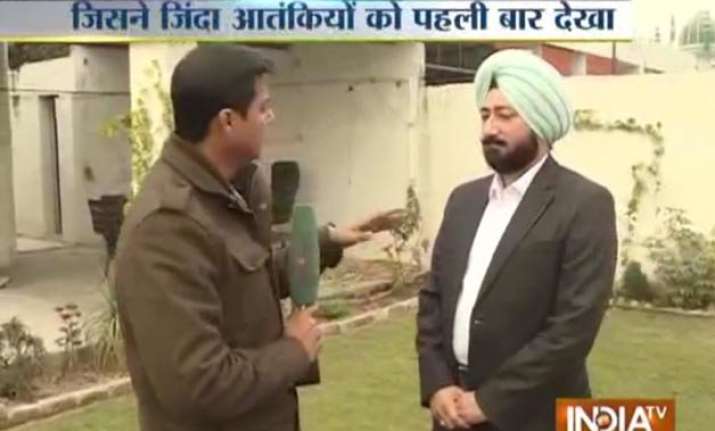 New Delhi: Before the six suspected Pakistani terrorists carried out the attack on the Pathankot air base that left seven security personnel dead and several injured, they had abducted the Superintendent of Police of Gurdaspur Salvinder Singh.
His SUV is believed to have been used by terrorists in travelling some distance between the point of infiltration and the crucial Indian Air Force base.
IndiaTV has manged to track down the police official who, along with two other persons who were travelling in the car on the Jammu-Pathankot highway that night, was roughed up before being let-off by the terrorists.    
S P Salvinder SIngh has made some startling revelations in an exclusive interview with IndiaTV.
Singh has corroborated what reports had until now only suspected. According to Singh, the terrorists were in a group of 4-5 and were wearing the Indian Army attire.
The ordeal for Salvinder Singh and two others started at Kolian area where he was signalled to stop by five men dressed in Army fatigue and were carrying AK-47 assault rifles.
The militants dragged Singh out of the car and sandwiched him between the front and middle seats. The militants then tied their limbs, taped their eyes and gagged his mouth.
"They took my phone and made calls to Pakistan, The terrorist were speaking in Punjabi and Urdu. I could understand little of their conversation in Urdu as I had no knowledge of the language," Singh told India TV.
Salvinder Singh, whose warning is being considered crucial to having staved off a big attack, said that he and his friend were beaten up by the terrorists before being left behind. They then took away the car in which SP and his friend were travelling.
According to Singh, until now they had not realised that they had kidnapped a senior police official. "The terrorists then came back looking for me after they came to know that they had kidnapped a senior police official," SIngh said.
Mr. Singh who managed to free himself first then freed his friend  "Madan let's try and get out of this forest."  
Salvinder later hid at a home in a nearby village and made a call to SSP Gurdaspur.
It was due to the timely tip off by Salvinder Singh that Indian intelligence agencies were able to make necessary arrangements and prevent a casualty which could have been much bigger.
Watch Video: