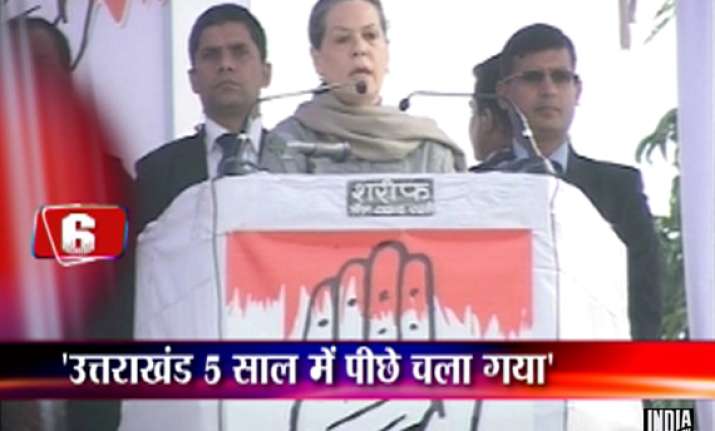 Roorkee, Uttarakhand, Jan 17: Congress president Sonia Gandhi today began her poll campaign in five poll-bound states by addressing a well-attended election meeting here, where she lambasted the BJP for what she called 'fooling the people of Uttarakhand.'
 
Sonia Gandhi said, BJP is trying to fool the people by changing its chief minister here. "Nothing has changed. Neither loot, nor dishonesty. Merely changing chief ministers will not do. The people of Uttarakhand must change the present government."
 
She appealed to the people to give a resounding majority to Congress in the state.
 
Gandhi alleged that only 40 per cent of the money given by Centre for welfare schemes in Uttarakhand have been utilised so far, while hardly 10 per cent of money under MNREGA (Mahatma Gandhi National Rural Employment Guarantee)  has been spent.
 
"For the last several years, the people of Uttarakhand have been deceived by the ruling party through lies. Their dishonesty and lies now lie in the open. The then chief minister's mask of lies was unmasked during the Kumbh Mela", she said.
 
"BJP has to be defeated to remove the clouds of danger on Uttarakhand", Gandhi said.
 
The Congress president listed several schemes taken up by the Centre and promised to remove licences for 'kolhus' in the plains. Sugarcane prices will be paid promptly to the farmers, she promised.
 
A minorities department will be created in Uttarakhand, and computers will be provided to madrasas, she said. Fairs in Haridwar and Hemkund will be given national status, she added.