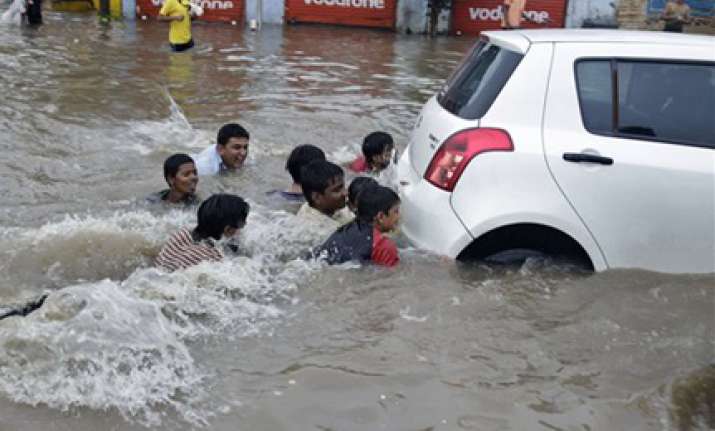 Ahmedabad: Six persons, including three children, were killed while rail and air traffic was severely affected after heavy overnight rains lashed the city, officials said on Sunday.
Ahmedabad received nearly 35 cms of rainfall since last night as water logging was reported from various parts of the city including Chandkheda, Ranip and Sabarmati, they said.
Ten trains were cancelled and nine others got delayed as railway tracks were submerged in flood water.
The top portion of a temple fell on an adjoining house killing four members of the family on the spot at Dudeshwar area here in the wee hours today, police said.
In separate incidents, two youths drowned in water logged underpasses at Akbarnagar and Nirnaynagar areas of the city, they said.
Operations at the international terminal of the Sardar Patel Airport here were affected due to water logging following which electricity supply to the terminal had been cut-off as a precautionary measure, airport officials said.
International flight operations were shifted to the domestic terminal, they said, adding the Ahmedabad-Dubai flight of Emirates was cancelled while several domestic flights got delayed.
Passengers were seen traversing through knee-deep waters at the airport. PTI