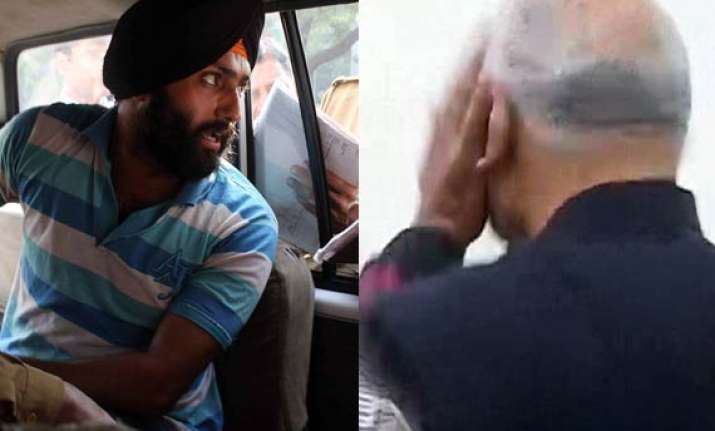 New Delhi, Nov 25 : Neighbours in Vijay Vihar, Rohini, Delhi have said that the young man who slapped Sharad Pawar and assaulted Sukh Ram, was greatly influenced by Gandhian Anna Hazare's crusade against corruption, reports The Times of India.
 
Harvinder is far from repentant despite two assaults in a single week, and his sister  told TOI that he was suffering from a mental illness and she says she has  'relevant papers' to prove her claim.
 
Harvinder on his part, had rang up his sister soon after the assault on Pawar, asking her to keep his 'mental papers' ready.
 
Harvinder's mother was stunned to see her son on television slapping Sharad Pawar. Deeply ashamed at her son's behaviour, she sought the advice of her neighbours before leaving for a relative's place, says the TOI report.
 
Harvinder kept to himself, but he appeared to be a modest person, said his neighbours. "This has come as a shock to us since he's from a good family," said Pyarelal Sharma, Harvinder's upstairs neighbour.

"He's a regular at my shop and often complains about the rising prices, blaming the government for the common man's misery," said Om Prakash, who runs a grocery store nearby.

Security agencies, meanwhile, are probing his links with right-wing outfits. "The media has received messages from Tajinder Pal Singh Bagga from Bhagat Singh Kranti Sena - owing allegiance to Sri Ram Sene - that they will pay Rs 11,000 to Singh for his brave act,'' said a police officer. Cops are mulling legal options which can restrain Singh from coming close to politicians but say prima facie it seems like an attempt to get "TV footage."
Harvinder Singh is a tempo driver and is reported to be on medicines for the past eight years for depression and signs of anxiousness.