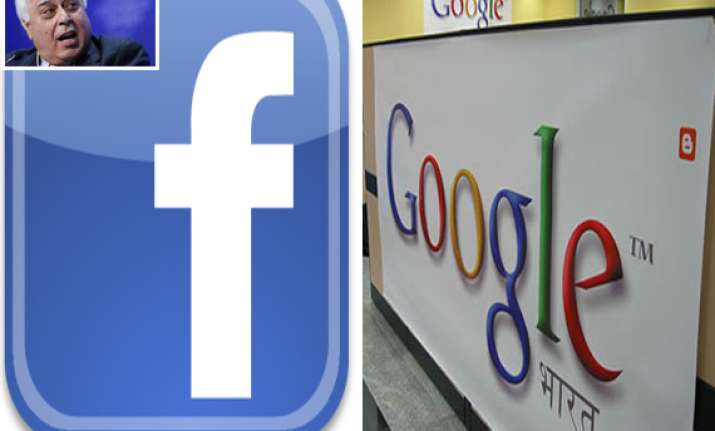 New Delhi, Dec 6: As a controversy raged over monitoring offensive content on internet platforms, Telecom Minister Kapil Sibal today asked social websites like Google and Facebook to ensure that uploading of derogatory material is stopped.

Maintaining that the government does not want to interfere with the press, he said if the social networking sites are not willing to cooperate with the government on stopping incendiary material "then it is the duty of the government to think of steps that we need."

 "This government does not believe in sensation and does not believe either directly or indirectly interefering in the freedom of the press. We have demonstrated that time and again," he said.

Sibal's hurriedly called press conference against backdrop of government's meetings with the officials from Google, Microsoft, Facebook and Yahoo over last few weeks after offensive material partucularly against Congress leader Sonia Gandhi and Prime Minister Manmohan Singh was put on the net.

He said his request for cooperation from them fell on "deaf ears" and "we will not allow intermediaries to say that the throw up our hands and we cannot do anything about it." Even as Sibal defended the government's move, criticism poured in the cyber space that India should not emulate countries like China in attempting to gag freedom of expression.

However, the Minister got support from Shashi Tharoor, Congress MP, who is popular in cyber world. "Have to say I support Kapil Sibal on the examples he gave me: deeply offensive material about religions & communities that could incite riots," Tharoor tweeted.

But his political rivals and MPs Varun Gandhi and Jayant Choudhary differed.

Facebook has come up with a response after Telecom Minister Kapil Sibal asked Internet companies to screen alleged derogatory, defamatory and inflammatory content about religious figures and Indian leaders.

Facebook in a statement says, "We want Facebook to be a place where people can discuss things freely, while respecting the rights and feelings of others, which is why we have already have policies and on-site features in place that enable people to report abusive content. 

"We will remove any content that violates our terms, which are designed to keep material that is hateful, threatening, incites violence or contains nudity off the service. 

"We recognise the government's interest in minimising the amount of abusive content that is available online and will continue to engage with the Indian authorities as they debate this important issue".

Congress MP Shashi reacted on Twitter, posting: "As a frequent victim of disparaging, inflammatory or defamatory content on social media, I wish2stress I'm not in favour of censoring it."

Tharoor now backs Sibal on offensive content.

However, after speaking to Sibal Tharoor changed his stance and re-tweeted: "I understand Facebook is indeed taking down some pages that KapilSibal showed them. Pretty vile stuff. Sadly public didn't object2them 1st (sic)."

All societies observe certain restraints regarding language and images acceptable in public, he said, adding the web content Sibal was talking about was deeply offensive material and could incite riots.

Tharoor now backs Sibal on offensive content

"Have to say I support Kapil Sibal on the examples he gave me: deeply offensive material about religions&communities that could incite riots (sic).

"Spoke to KapilSibal. He assured me he opposes political censorship. Concern is re communally inflammatory images&language which he described (sic)," Tharoor tweeted.