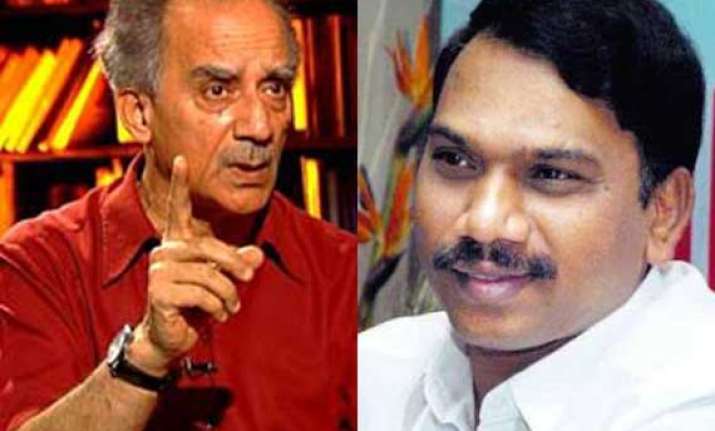 New Delhi, July 25:  Former Telecom Minister Arun Shourie today agreed with A Raja that the latter had discussed the 2G spectrum issue with Prime Minister Manmohan Singh and then Finance Minister P Chidambaram before going ahead but refuted his claim of following the NDA policy.

Reacting to Raja's contention in court today that he had discussed the 2G spectrum allocation issue with Singh and Chidambaram, Shourie said, "If we go by the documents, Raja seems to be right."

He insisted that he was making this statement based on the Prime Minister's file on this issue. He added that the government argument about the Prime Minister being concerned about dilution of equity by the licence-holders and not divesting does not stand.

"If it had been in line with foreign equity policy of the government why has this government issued a show cause notice of penalty to Etisalat for Rs 7,100 crore for violating FEMA?" Shourie asked.

The former Telecom minister said Raja has been "very clever" as he wrote letter after letter to the Prime Minister stating that the PM had been informed and that he (Raja) had the "benefit of the advice of the Finance Minister".

"Raja issued press statements and said he was enlightened by not only the Solicitor General Goolam Vahanvati but also by the External Affairs Minister Pranab Mukherjee....  On November 7, 2007, Raja said these matters had been discussed with the Finance Minister," Shourie said.

Referring to a file noting by the Principal Secretary to PM on January 15, 2008, Shourie said, "He wrote that the PM wants this informally shared with the Department of Telecom and does not want any formal communications. The PM wants the PMO to be kept at an arm's length."

Shourie further alleged that TRAI documents in regard to 2G spectrum allocation were "supressed".

Refuting Raja's claim that he was only following the NDA policy on spectrum allocation while dealing with 2G allocation, Shourie said, "He is completely wrong in saying he was following NDA policy. I can show he was not following any policy, procedure or principle."

The former minister alleged that Raja had ensured that pending applications for 2G spectrum were thrown, that only 40 minutes were given to applicants to file, that Bankers' Drafts of his friends from Mumbai- Swan and Unitech- were ready and submitted within that short time.

He further alleged that Raja had sent files of other applicants to various departments while he was clearing the contracts for applicants close to him.

Shourie insisted that the scam came to light after a public outcry and exposes by the media.

He maintained that "strong arm" people were employed at Sanchar Bhawan when the applications were being accepted.
Some people who wanted to apply were beaten up, he said. PTI