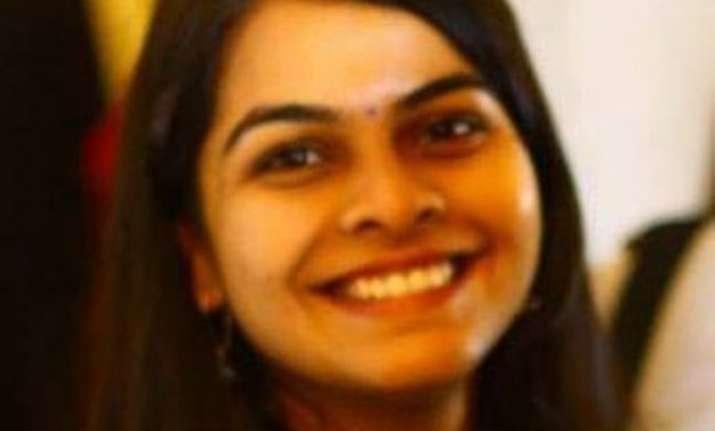 New Delhi: Women in India face harassment at every step and even IAS officers are prone to the problem that common female citizens of the country are facing.
The men get away with their crime because women in India shy away from filing charges against those who abuse them because of the concern, "What would people say?" Even if they gather courage to approach the authorities, they fail to get desired and prompt response.
Riju Bafna, a young IAS officer has filed charges against an activist for sexual harassment. She shared her experience in a Facebook post how a judicial magistrate and a lawyer acted insensitively while she was recording her statement.
Bafna says in the post that she had lodged an FIR against Santosh Chaubey, the Ayogmitra of Human Rights Commission. Chaubey had been sending her 'indecent' messages for a while.
With the help of the district collector Bharat Yadav, prompt action was taken against Chaubey, who was removed from his post immediately.
However she was shocked by the behaviour of a judicial magistrate and  lawyers when she turned up to record her statement.
One woman commented, "And imagine, you are an IAS officer... already a woman with some power. Most women are not."
Here is her Facebook post:
Hi everyone. I am posting this message to share my experience with judiciary on a sexual harassment case filed by me.
Santosh Chaubey, Aayogmitra of MP Human Rights Commission was sending me indecent messages last week. I had filed an FIR against him and criminal action is being pursued against him. He was immediately removed from his job, thanks to the swift action by my Collector, Shri Bharat Yadav.
Today, I went to give my statement to the Judicial Magistrate. While I was giving my statement, an advocate named Lalit Sharma was standing next, overhearing my statement, along with others in the court. I asked the judicial magistrate to ask others to leave as I was uncomfortable giving my statement in front of so many people.
On saying this, Lalit Sharma started shouting at me, saying "how dare you suggest me to leave, I am an advocate here and you might be an officer in your office but not in the Court". I told him that the privacy I am demanding is not as an IAS officer but as a woman and laws provide me with that. He started arguing and eventually left.
Such is the state of affairs for women in this country. When I said to Judicial Magistrate that he should be careful of presence of other people when a woman is giving statement under sexual harassment case, he said that you are young and that's why demanding such things.
Idiots are lined up at every step and people are highly insensitive towards our sufferings. If you are born in this country, better prepare yourself for struggle at every step.
A day later she wrote another post on her Facebook account giving more detailed account of the incident:
In my previous post, there was a line about women not being born in the country. I wrote that line in the spur of moment and I regret blaming the country for the fault of individuals.
Indeed, I had edited the fb post later. However, the entire experience made me realize how insensitive the criminal justice system is towards the sensitive matters of sexual crimes. I have full faith in the institutions of this country and I am making the following representation to the concerned authorities.
"This is to draw your kind attention to an incident that occurred with me in the Hon'ble Court of Judicial Magistrate on 1 August, 2015 in Seoni, Madhya Pradesh. I had appeared before the Court to record my statement under sec 164 (5) CrPC for FIR number 0687 dated 26/7/2015.
This FIR was registered by me against a person named Mr.Santosh Chaubey, Ayogya Mitra of MP Human Rights Commission in Seoni district. Santosh Chaubey was harassing me by sending indecent messages. I reported that to my senior, Shri Bharat Yadav, Collector & DM, Seoni.
He immediately wrote about this harassment to MPHRC and Santosh Chaubey was vacated from official responsibilities with immediate effect.
As a young woman facing the Court for the first time in a sensitive matter of sexual harassment, I realized why women do not want to come out in the open and report sexual harassment cases. The entire experience was horrible and traumatic.
On reaching the Court, I requested the Hon'ble Judicial Magistrate to kindly allow me in camera recording of statement. Even before the Court had decided on my request, an advocate, Shri Lalit Sharma, who happened to be standing there, started screaming at me as to how dare I make such a request.
He started using very rude language and said that I might be an IAS officer in my office but this was his Court and he was not leaving. I requested him to allow me some privacy, which I sought not as an IAS officer, but as a woman reliving the horrible experience of sexual harassment.
But probably this advocate was more interested in demeaning me than facilitating justice against perpetrator of sexual harassment. He was not even a party to the case but just a bystander and he still did not allow me my privacy and kept arguing and using rude language. Finally after much argument, he left.
During this entire incident, the Hon'ble Judicial Magistrate maintained complete silence. He never decided on whether I could be allowed in camera proceeding.
He was a spectator to the abuse I had to face for asserting my dignity and privacy. Worse, when I finally recorded my statement, he remarked that I was a young, new recruit on first posting, which was why I had these expectations of privacy and that I would get to know the system and Courts with time and get done away with such demands.
If this is the state of apathy and insensitivity that a woman with supposedly privileged position of an IAS faces in our Courts, one cannot even imagine the plight of ordinary women seeking justice.
It is no surprise that crimes against women are increasing and that so many women remain silent in cases of sexual harassment. My offender has had a history of such abuses which were never reported earlier.
I empathize with those women who remained silent, as the criminal justice system expects us to relive the experience in the glare of open Court and the so-called 'officers of the Court' are more keen to teach me my place as a woman than to help me assert my rights and get justice.
Women have very high expectations from the judiciary as it was the Hon'ble Supreme Court that filled the legislative vacuum for sexual harassment at work place through the landmark Vishaka Judgment. A woman comes to the Court with hopes of justice.
She expects an unbiased trial and compassionate treatment. But what I underwent gave me a feeling of re-victimisation. I do not wish to prejudice the decision of the case but I already feel a sense of injustice owing to the lack of sensitive procedure while dealing with this case. I felt belittled and humiliated by being subjected to this kind of ego play.
I am sure your good self would exercise the powers vested in you to take appropriate action. I have not lost faith in the institutions of this great country, which have historically intervened to uphold the dignity and honour of women.
I humbly beseech your office to take note of this incident and the role of Hon'ble Judicial Magistrate and Advocate Shri Lalit Sharma and take any necessary action that you may deem fit.
I humbly request your good office to sensitize the judges and advocates on the important role they have to play if women have to come forward and seek justice against sexual crimes."
The officer is a graduate from the Delhi School of Economics, and is married to a fellow IAS officer. She is currently serving as a trainee officer.