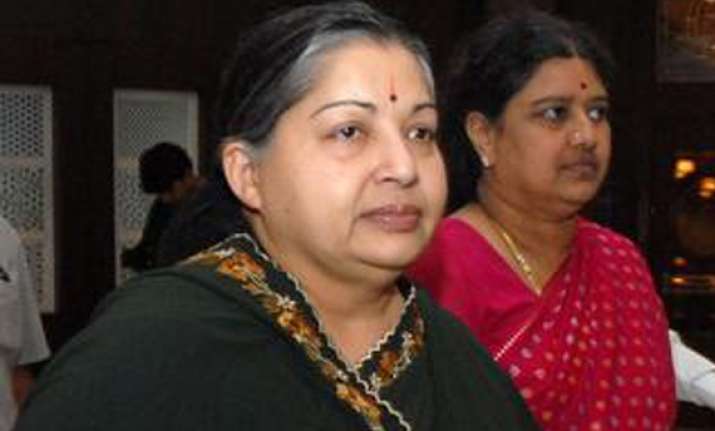 Chennai, Apr 2:
Two days after her expulsion from the party was revoked, V.K. Sasikala on Monday met Tamil Nadu Chief Minister J. Jayalalithaa, signalling her return to the Poes Garden residence of the AIADMK chief.
Though party insiders confirmed the visit, there was no official word on it.
Ms. Jayalalithaa had on December 19 expelled her close aide Ms. Sasikala and scores of her relatives following allegations that they interfered in the affairs of the party and government.
However, in a turn of events, Ms. Sasikala had on March 28 issued a statement through AIADMK-promoted Jaya TV, stating she had snapped ties with all those who had "betrayed" Ms. Jayalalithaa.
"It is an unpardonable betrayal by those who claimed to be my relatives and friends to have indulged in activities against Jayalalithaa. Those who betrayed my elder sister are not needed by me," Ms. Sasikala had said.
Ms. Sasikala had also claimed innocence, saying she came to know about the happenings which were against AIADMK's interest and the conspiracy against Ms. Jayalalithaa only after she came out of Poes Garden (Ms. Jayalalithaa's residence), where she had stayed for 24 years.
"This has pained and shocked me", Ms. Sasikala said, adding, all those things happened without her knowledge and this was the "truth."
Accepting the explanation, Ms. Jayalalithaa had on March 31 announced that the disciplinary action against Ms. Sasikala was cancelled, signalling a patch-up.