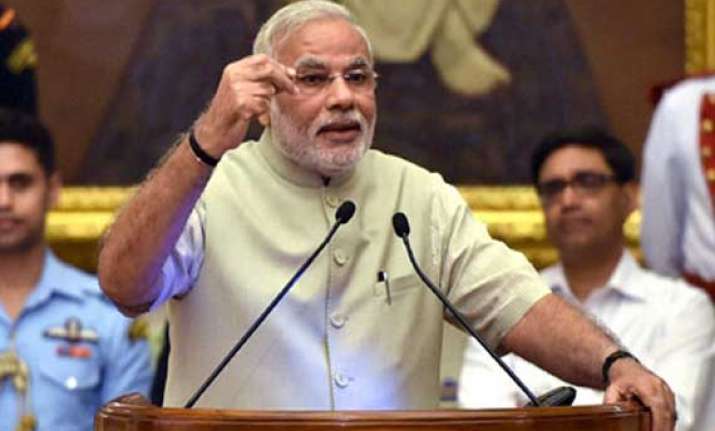 New Delhi: Prime Minister Narendra Modi Thursday launched the Pradhan Mantri Jan Dhan Yojana, a flagship project of the union government. Around 15 million bank accounts were opened in a day. Here are some of the highlights of the scheme:
- About 15 million accident insurance policies done on a single day and same number of bank accounts opened.
- Programme held at around 77,000 locations with the participation of chief ministers, union ministers and bank officials.
- Target to cover 7.5 crore households with at least one account will be achieved by Jan 26, 2015.
- Universal access to banking facilities for all households through a bank branch or a fixed point business correspondent called "Bank Mitra".
- Coverage of all households with at least one basic banking account with RuPay debit card having inbuilt accident insurance cover of Rs.1 lakh.
- Additional Rs.30,000 life assurance cover for those opening bank accounts before Jan 26, 2015.
- An overdraft facility of up to Rs.5,000 after satisfactory operation for six months.
- Full range of banking services would be possible through ordinary mobile phones.
- Financial literacy to be imparted up to village level.
- Expansion of Direct Benefit Transfer under various government schemes.
- The second phase of rollout will involve providing micro-insurance to people.
- Unorganised sector pension schemes like 'Swavalamban' will be provided through business correspondents in the second phase.
- The programme is in mission mode with Finance Minister Arun Jaitley as the head.
- Households being targeted instead of only being villages targeted earlier.
- Platform has been built by the National Payment Corporation of India that connects all banks and all telephone networks in the country.
-The platform helps a customer access his/her account with any mobile set.