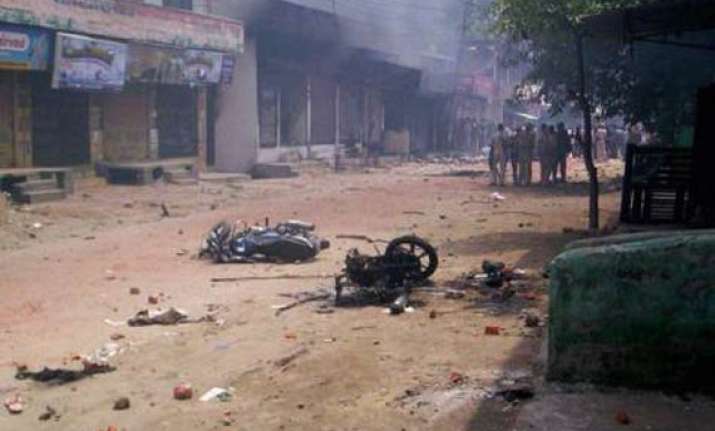 Lucknow: As the situation has shown improvement, curfew was being relaxed from 10 AM to 2 PM in the new city and from 3 PM to 7 PM in the old town areas, District Magistrate Sandhya Tiwari said "This is being done to allow people to pick up their items of daily need from the markets."
Authorities yesterday deployed drone cameras in curfew-bound Saharanpur in Uttar Pradesh, a day after three people were killed and over a dozen critically injured in communal violence.
Police officials said the situation in Saharanpur city was under control but tense although there had been no major incident of violence since late Saturday night.
Violent clashes erupted between Sikhs and Muslims on Ambala Road over a land dispute.
It quickly spread in the city, leading to arson. Groups of mostly young people fought pitched battles on the streets, using stones and bricks as weapons.
Several vehicles were burnt in the frenzy, gun shots were fired and business establishments were targeted.
An official said any decision to relax the curfew in the city of seven lakh people would be taken by the home department and the police.
With an injured man succumbing to injuries, the death toll in the clashes now stands at three, officials said.
The condition of over a dozen injured, mostly with gun shot wounds, is critical, officials said. They include a police constable and a Home Guard.
Security forces, meanwhile, deployed drone cameras to keep a vigil on "mischievous elements".
About two dozen people have been arrested.
Uttar Pradesh Chief Minister Akhilesh Yadav has sent two senior officials to camp in the violence-hit city and oversee the security arrangements.
Paramilitary forces, including the Indo-Tibetan Border Police, Central Reserve Police Force and Rapid Action Force, were deployed after Akhilesh Yadav spoke to Home Minister Rajnath Singh on telephone.
The maximum deployment has been done in areas where the population is a mix of Muslims, Sikhs and Hindus.
Curfew and shoot-at-sight orders had remained in force on Sunday in the wake of clashes between two communities over a land dispute with some indulging in arson. Three persons were killed in the violence on Saturday that also left 33 injured.  22 shops were gutted or damaged and 15 four-wheelers torched in the incidents, according to Tiwari.
Meanwhile, Saharanpur Superintendent of Police Rajesh Pandey said one person who had "instigated" the violence has been identified.
"We have not arrested him yet, but we are hopeful that we will catch hold of him very soon," he said, noting that the individual has been charged with rioting, arson and conspiracy.
He said, "We will undertake a detailed investigation and only then we can say whether it is a grand design or some thing else is behind the scene."