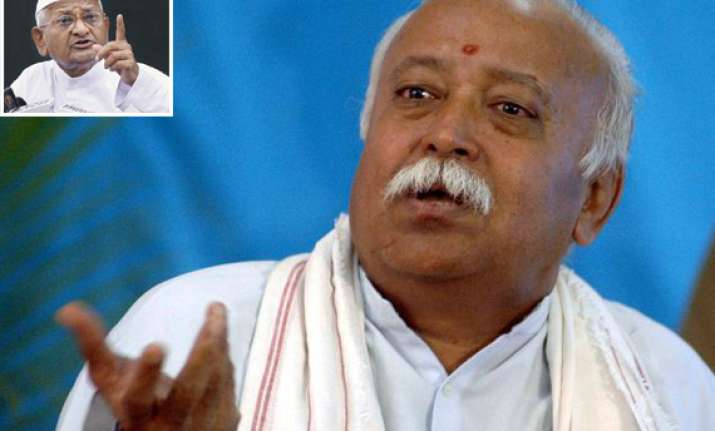 Patna, Feb 5: The RSS today slammed Gandhian Anna Hazare for failing to acknowledge that its workers had played an "active role" in his nationwide crusade against corruption last year, though the Sangh itself was not part of the civil society agitation.

"It is a fact that the Sangh workers in individual capacity did play an active role in the anti-corruption crusade by the civil society headed by Hazare.... It baffles me as to whay the former did not acknowledge the fact," RSS chief Mohan Bhagwat told reporters. 

Though the RSS had not directed its workers to join the civil society's crusade on corruption, a large number of them did take an active part in the agitation throughout the country on their own volition, he said. 

However, it baffled him when the Gandhian leader did not acknowledge the role of the Sangh workers in his anti-corruption movement when the Congress attacked Hazare for soliciting RSS support on corruption issue, Bhagwat said. 

Bhagwat, however, clarified that the RSS was not part of the civil society agitation on the corruption issue even as it shared similar views and had adopted a resolution on the issue in March last year.

The RSS leader said that corruption in the political system could not be addressed merely by taking stringent action against corrupt public servants.

Other remedies like electoral reforms and making the system transparent and accountable should also be considered to usher in good governance in the country.