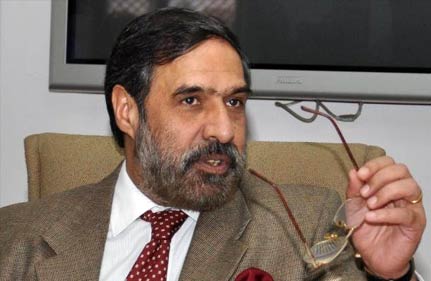 New Delhi, Nov 19: In disclosures which can add to its troubles, government today admitted that PSU officials did not follow transparent norms in export of non-basmati rice to some African countries during UPA-I tenure, resulting in huge profits to private parties.
The matter has been referred to the Central Vigilance Commission, Commerce and Industry Minister Anand Sharma said in the Lok Sabha.
Show cause notices have also been slapped on the officials allegedly responsible for "hugely disproportionate" profits to private parties and "denial of legitimate profits to PSUs", he said in a statement, adding the "possibility of collusion" cannot be ruled out.
These transactions were completed during December 2007-March 2009 by PSUs under the Commerce Ministry, when it was headed by Kamal Nath, now Minister for Road Transport and Highways.
Sharma's disclosure can add to the woes of the government already facing the heat on various scams in 2G spectrum allocation, Commonwealth Games and Adarsh Housing Society in Mumbai.
The government had banned export of non-basmati rice in the wake of escalating prices in the domestic market. However, on diplomatic ground, it allowed export of limited quantity to some African and the least developed countries.
But the predetermined terms of contracts between foreign buyers and domestic suppliers (with small margins for the PSUs) led to "hugely disproportionate profits accruing to private parties, namely the foreign government nominated domestic suppliers in India," Sharma said. These parties have since been blacklisted.
The lack of due diligence on the part of officials resulted in a "denial of the legitimate profits of the PSUs," he said adding, all records have been forwarded to the CVC.
The enquiry was ordered following questions on the integrity of the process of relaxation of export ban on diplomatic ground, he said amidst din.
STC, MMTC and PEC are the three PSUs which take up the job of export-import on behalf of the government.
Sharma said all documents proved that PSUs were to be exporters only for record sake and operated on a meagre trading margin ranging between 1 per cent and 1.5 per cent.
Though the government had authorised the release of 13.5 lakh tonnes, the actual quantity exported was about 1.22 lakh tonnes.
The commodity was exported to Comoros, Ghana, Madagascar, Mauritius and Sierra Leone. PTI