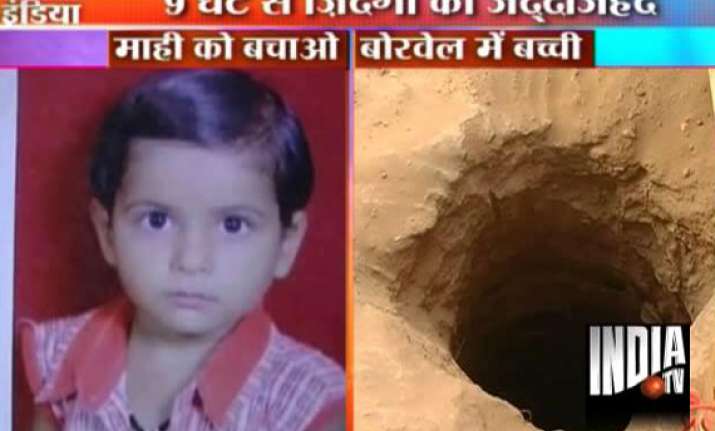 Gurgaon, Jun 22: More than 42 hours after she fell into a 70-feet borewell, the fate of the 4-year-old girl remained uncertain today with rescuers struggling to reach and save her.
The work to rescue the child was hampered by the presence of hard rocks which have come in the way of the link to be established between the borewell and a parallel pit dug up in order to reach her, rescue officials said.
More than 100 officials drawn from army, fire, police, health and revenue departments are drilling the pit parallel to the borewell into which she fell on June 20 while playing at village Kho.
A team of Gurgaon Rapid Metro was pressed into service to drill the pit further and they are assisting the army to save the child even as Sonia, a distraught mother of Mahi, is making repeated appeals to the administration and the public to help save her daughter.
Meanwhile, Haryana Chief Minister Bhupinder Singh Hooda said efforts were on get the girl out in fine condition and instructions have been given for that.
He said "whosoever is responsible for the carelessness (for not covering the borewell), a case is being made against him".