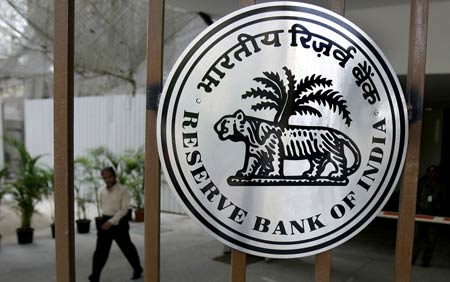 Mumbai, Nov 2: Hardening its stance on inflation, RBI today raised some key policy rates prompting Finance Minister Pranab Mukherjee to caution that it could have some short-term negative impact on growth.
The apex bank increased its short-term lending (repo) and borrowing (reverse repo) rates by 25 basis points to 6.25 per cent and 5.25 per cent respectively, but the commercial banks said they would not increase their lending rates immediately.
"This tightening  may have some negative impact on the growth rate, but I expect such an effect to be only a short one. In the medium to long term, the changes announced by the RBI today should actually help the Indian economy do better in terms of growth," Mukherjee said.
This was the sixth time this year that the Reserve Bank of India (RBI) has raised repo and reverse repo rates. The apex bank, however, hoped that going forward it may not have to up the rates further.
India Inc expressed apprehensions that the RBI decision would make loans expensive and may dampen industrial growth.
"This (RBI move) in turn would adversely impact the interest sensitive sectors like consumer durables and auto, which have led the growth hitherto as also on the housing demand," Ficci Secretary General Amit Mitra said.
RBI has pegged the growth rate for the current fiscal at 8.5 per cent, up from 7.4 per cent in the previous fiscal.
The mid-year policy initiatives, according to Planning Commission Deputy Chairman Montek Singh Ahluwalia, was in sync with the actions of other central banks.
Although banks said they would refrain from immediately hiking rates, they may not be able to hold on to the existing rate-level for long as demand for credit increases and depositors put pressure on them to raise interest rates.
"So, whether it (hike by RBI) will raise pressure on the system? Eventually, it will. Whether there would be immediate reaction? Not likely," said SBI Chairman O P Bhatt.
The hike in the key interest rates according to RBI are aimed at containing inflation, which is above the "comfort level."
Inflation was 8.62 per cent in September and food inflation was 13.75 per cent in mid-October. RBI has pegged inflation at 5.5 per cent by the fiscal- end.
"Today is not such an easy time. The signals from the economy have been mixed. Industrial growth showed a slight slowing down in August. Inflation, while less than what it was some months ago, is still not in a zone where we can sit back," Mukherjee added.
"I am glad that RBI has risen to the challenge and used a very careful combination of policies to complement what the government is doing to steer our economy to grow better and harness inflation," Mukherjee said.
Stock markets reacted mildly to the hike in policy rates by RBI with the benchmark Sensex ending the day flat. The 30-share index closed by 9.94 points lower at 20,345.69 points.
"RBI's move to hike the key policy rates are in line with the Street's expectations and equity markets have not reacted much to the announcement since it has already be factored in," Axis Mutual Fund CEO and MD Rajiv Anand said.
Expressing concern at excessive borrowing for homes, the Reserve Bank also tightened norms for housing loans as well as controversial teaser loans.
The Reserve Bank also cautioned against rising stock and gold prices.
It said huge capital inflows in emerging economies are resulting in appreciation of local currencies and asset prices. PTI