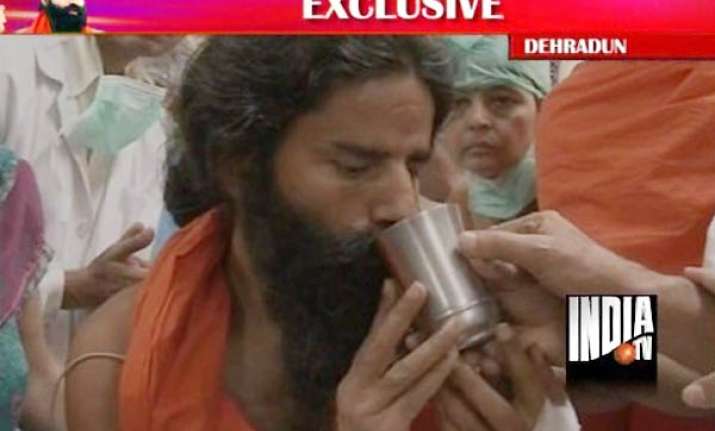 Dehradun, June 12: Yoga guru Ramdev today ended his nine-day-old fast in the presence of some spiritual leaders.

Spiritual leader Sri Sri Ravishankar, who met the 46-year-old yoga exponent for the third day at a Dehradun hospital, said, "Ramdev has broken his fast by taking juice. He ended the fast in the presence of various religious and spiritual leaders".
Ramdev was on a fast for the past nine days to protest against corruption and black money issues.
He was admitted to the Himalayan Institute of Medical Sciences on Friday after his condition deteriorated at his ashram in Haridwar.
The Art of Living founder had been meeting Ramdev to persuade him to end his hunger strike.
Earlier doctors attending on him had said, "His condition is stable. Ramdev's blood pressure and pulse rate and all other parameters are the same.
There was slight variation in his BP.
It has tripped thrice today." Neurologist Dr Deepak Goel, who is part of the team treating Ramdev, said, "He is facing problem in speaking. He has complained of weakness. We are giving him saline drip with vitamins. A team of doctors which is looking after him has said that he should be allowed oral feeding to save his life."
On the health of Ramdev's aide Balakrishna, he said, "His parameters are balanced and his condition is stable."
Earlier in the day, Punjab Chief Minister Parkash Singh Badal and former Haryana Chief Minister Om Prakash Chautala had met Ramdev.

Badal told reporters, "I want the government to accept all his demands as they are for welfare of the whole nation. We will be conveying to the Centre that it is their responsibility to save a human life who is fighting for people's cause." PTI