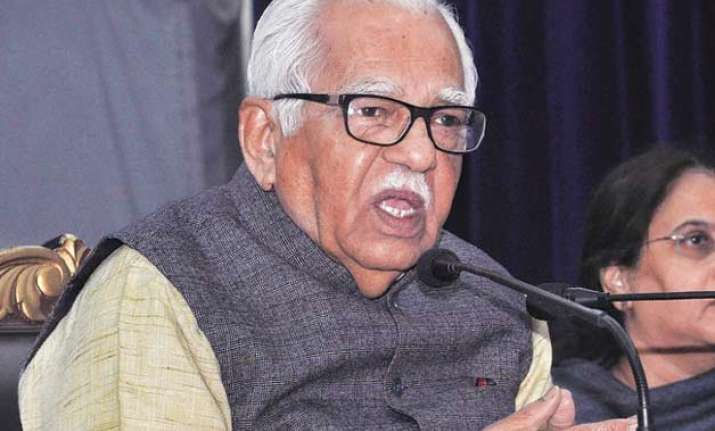 Varanasi: Uttar Pradesh governor Ram Naik today said that he will write a letter to Chief Minister Akhilesh Yadav asking him to initiate a probe in the alleged irregularities in the appointments made by the UP Public Service Commission (UPPSC ).
When pointed out that, the appointments made by UPPSC, nearly 56 of 86 Sub-divisional magistrates selected here belongs to a particular caste, Naik said "I have already unofficially spoken about this matter with CM, but now I will write a letter to the CM asking him for the probe by initiating an enquiry so that this entire fraud gets unravelled."
He further said, "though right now CM is on a foreign trip and as soon as he returns I will send him this letter officially."
Naik while addressing a function organised by the mediapersons here in the city said that in his one year tenure as UP governor that ended yesterday, he had made all efforts to make feasible interaction with public and seek their suggestions and solve as much of their problems.
Naik, however added, "I was on several occasions questioned by mediapersons that will I even hold Janata Darbar and I had clearly stated this that holding Janata Darbar is the job of elected government and public representatives and not of governor but my office (governor's office) is always open for the public.
Naik also expressed his disappointment that despite a long time period, Lokayukta was not appointed in UP.
"Lokayukta is the medium for the functioning of good governance and to put control over the corruption of government officials, public representatives and ministers and its disappointing that in UP the appointment of Lokayukta could not be made, now when the complaints received against these persons could not be investigated how can we expect to reduce and curb corruption here.
Speaking over the IPS officer Amitabh Thakur controversy, Naik said that an allegations can get levelled against any person ,however, government officials should work according to their service manual and no one should be unnecessarily get harassed.