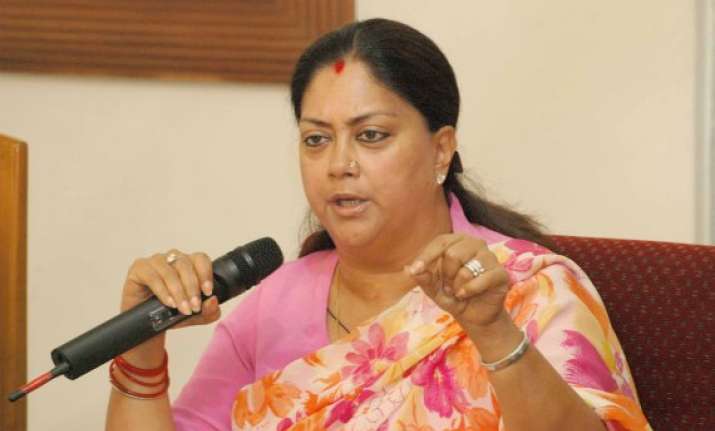 Jaipur: Rajasthan Governor Kalyan Singh and Chief Minister Vasundhara Raje today launched the 'Swacch Bharat Abhiyan' from Dhankya town in the district by inspiring people to make cleaning a habit.
They along with other public representatives cleaned some area at Dhankya railway station after addressing the gathering.
Governor Kalyan Singh administered the cleanliness pledge to people and said that they should take a firm resolution to make their place and surroundings clean always.
He called upon people to participate in the drive in maximum number.
Raje while addressing the gathering said that cleanliness plays important role in attracting investment, promoting tourism and for accelerating growth besides making the environment healthy.
The Chief Minister on the occasion also announced to provide additional fund to Gram Panchayats which falls under the area of Jaipur Development Authority for works like drainage system, roads etc and asked the authorities to utilise the fund for village development.
Heads of various departments also launched the campaign in their offices and areas.
Chief Secretary launched the campaign in Secretariat while DGP Omendra Bharadwaj and other policemen cleaned the Police Headquarters road.
South Western Army Commander Lt Gen Arun Kumar Sahni participated in the cleanliness drive at Jaipur Military Station and emphasised the importance of the campaign, Defence Spokesperson Lt Col Manish Ojha said.
While addressing the officers, Sahni said that tough cleanliness and order are an indelible aspect of military life, the campaign aims to further sensitise all military personnel irrespective of rank and their families towards this much needed drive.