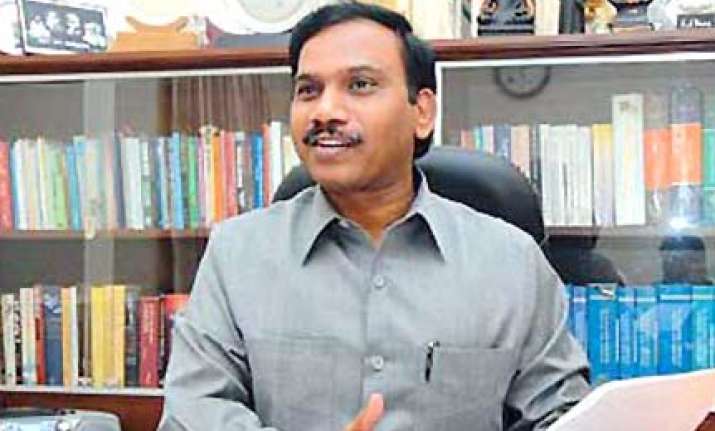 New Delhi, Feb 14: Former Telecom Minister A Raja was remanded today to CBI custody for 3 more days for interrogation on his alleged role in 2G spectrum allocation scam along with Swam Telecom-promoter Shahid Usman Balwa whose custody was extended for four days.
The court remanded the Raja and Balwa to CBI's custody till February 17 saying the crime is "enormous".
Special Judge O P Saini extended Raja's custody, ignoring his allegation that CBI was being driven by political motive instead of probing the case against him.
"What is the purpose of police custody? (It's not clear) whether they (CBI) want it for unearthing the conspiracy or have political motive. CBI should not make it a political game and they should investigate only," Raja's counsel Ramesh Gupta contended before the court, opposing CBI's plea for extension of his client's custody.
However, the judge said "the crime is enormous in nature and its investigation is time-consuming. Accordingly, considering the enormity of the crime, complex and complicated nature of the investigation, voluminous documents involved in the case, I find that the prayer for further custodial interrogation of the accused persons is justified.
The 47-year-old DMK leader, who has been facing an intense grilling by CBI sleuths for the last 11 days at the agency headquarters, opposed CBI's plea saying "no new facts have come on record during the previous police custody remand."
"There is no justification for extension of police custody remand," contended Gupta.
Seeking extension of remand, senior public prosecutor Akhilesh, said both the accused were confronted with each other during the custodial interrogation but they were "evasive in their replies".
"Both the accused have been evasive in their replies and as such, their interrogation could not be completed. In this case, the documents are quite voluminous and the nature of the case is quite difficult and complicated. As such, their interrogation could not be completed," CBI said.
Opposing CBI's plea for extension of Balwa's custody, his counsel Vijay Aggarwal contended before the court that his client was merely engaged in bonafide commercial transactions and had not violated any law.
He said Balwa has been co-operating with CBI throughout the investigation.
"CBI has not put forward any specific evidence for seeking extension of police custody remand and has only made a general statement without any substance," Aggarwal said.
He said the investigating agency has, however, added two more sections of the Indian Penal Code relating to charges of cheating and forgery in the case against the accused.
CBI defended adding the fresh charges against the accused and said "while investigation is in progress, things are coming to light and so sections 420 (cheating) and 468 (forgery) of IPC have been added," CBI said.
CBI told the court that Raja and Balwa need to be confronted with some more documents recovered by it.
"They (Raja and Balwa) are further required to be put under sustained custodial interrogation and confronted with each other on the trail of money as well as with other suspects and witnesses so that the real facts and elements of criminal conspiracy, including omission and commission, committed in this case, can be unearthed and taken to light."
CBI said in its application.
It said further custodial interogation of the duo was needed as the case was "complicated and highly technical".
"It is an important case. Vastness of the documents and ramifications of this case are much wider and so we need further custodial interrogation of the accused," CBI said.  
Balwa's counsel Aggrawal submitted there was nothing new on the grounds on which CBI was seeking extension of custody.
"CBI is seeking extension of remand on the same grounds which they have given in their last remand application," he said.
CBI, in its remand application, apprised the court that transaction of about Rs 200 crores from Cineyug Films Pvt Ltd to Kalaignar TV Pvt Ltd were made in 2009.
Kalaignar TV Pvt Ltd belongs to Sharad Kumar and others, who are closely associated with Raja, while the funds were arranged by Cineyug Films Pvt Ltd from D B Group companies wherein family members of Balwa are Directors or shareholders, CBI told the court.
Aggarwal, however, said the transaction with Kalaignar TV had happened much after the spectrum licences were granted.
He denied the allegations against Balwa that Swan Telecom was allotted UAS licences for 13 circles for Rs 1,537 crore and it offloaded 45 per cent of its shares in the licences before the roll-out to Etilsalat of UAE for Rs 4,200 crores.
"Till date, Balwa has not offloaded even a single share," Aggrawal said. PTI