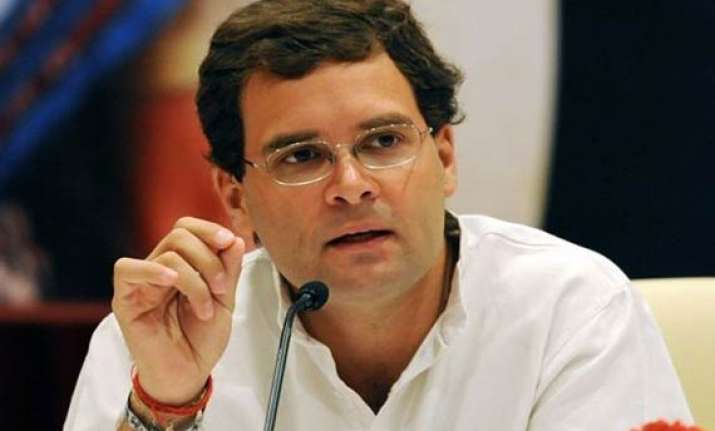 Siddharthngar(UP), Nov 25: Making a veiled attack on Chief Minister Mayawati,  Congress leader Rahul Gandhi today said an "elephant" in Lucknow was eating away all the money sent by the Centre for the poor in Uttar Pradesh.

In an apparent reference to the ruling BSP and its poll symbol, the elephant, the AICC General Secretary taunted Mayawati saying poll-bound UP has decided to "throw away" this elephant.

Rahul prefaced his attack on the BSP supremo by saying that there is no dearth of funds in the country and that UP can get as much money as it needed.

"What is lacking is that money doesn't reach you. There is an elephant sitting in Lucknow and this elephant is eating your money. This time UP has decided to throw away this elephant," the Congress leader told a public meeting here. 

Gandhi tody lashed out both at the BJP and UP chief minister Mayawati saying that the BSP supremo sees the world from her helicopters. 

Addressing a public meeting here, Gandhi said, the BSP chief is opposed to MGNRGS as "she sees the world from helicopter and not move about on roads, neither takes food with poors and drink water of their wells". 

"People migrate from villages to towns and cities in search of employment, then why not bring jobs to villages," the Congress leader said.

Rahul Gandhi said, the UPA government has launched loan waiver schemes for farmers as it consider them to be the backbone of the country but in UP things are opposite. Farmers' land are being snatched and when they ask for compensation, the government gives them bullets, he said.

Gandhi said during his visits to Bhatta Pasrsaul and Tappal in western UP, which had seen farmers' unrest over land acquisition, he was told by the state government officials that those protesting for compensation were not farmers but Naxalites. 

"When poor people in UP demand their rights they are called Naxalites by the government officials," he said. 

In a terse snub to BJP and its 2004 'India Shining' campaign, Rahul Gandhi  said it shone only for the leaders of the saffron brigade and not for the common people. 

"In 2004 (during the general elections) the opposition had launched 'India shining' campaign...They can give this slogan as their leaders do not visit your houses, don't eat food with you, drink dirty water of your wells...they can say India is shining," he told a public meeting here. 

"It is shining in their houses and air-conditioned cars but not in villages," Gandhi said.

He said though the country has made progress, it is not shining in villages and small towns. "India will shine only when no poor person is left in the country," Gandhi said.