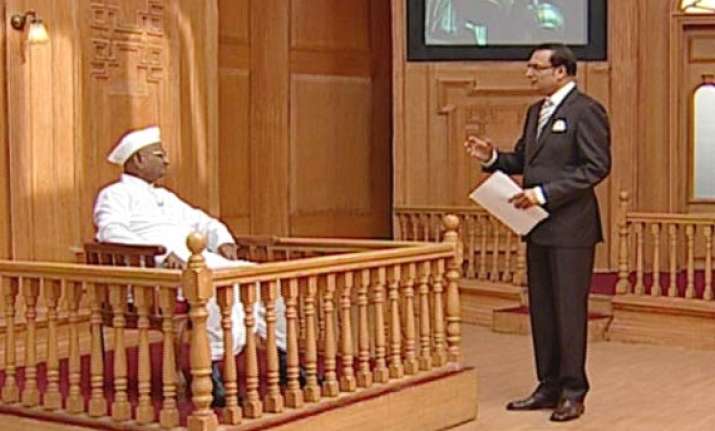 New Delhi, Mar 17: Anti-corruption crusader Anna Hazare today said Congress general secretary Rahul Gandhi lacked experience to become the nation's Prime Minister. 

Replying to queries from Rajat Sharma in India TV's show Aap Ki Adalat, Hazare was asked why he remarked during the elections that if Rahul became PM, India's future would become dark.

Hazare replied: "I said this because Rahul lacks experience. He is still young. To become a Prime Minister, one needs experience. The Prime Minister has a very big responsibility. He should first gain experience and then think of taking care of the country."

(...isliye bola kyonki unka anubhav kam hai. Abhi naujawan hai. Pradhan Mantri banne ke liye anubhav aana chahiye. Prahan Mantri ki zimmedari bahut badi hoti hai. Pahle anubhav badhana, tabhi desh ko sambhal sakte hain.)

On Rahul's oft-repeated remarks about "gussa aata hai" during the UP poll campaign, Hazare said, one does not need anger to run a country. Anger has never helped any one, it rather causes damage.

(Desh ko chalaane ke liye gussa nahin chahiye. Gussa ne aaj tak kisi ka bhala nahin kiya hai, buraa kiya hai)

The Gandhian activist said, his next target was the 2014 Lok Sabha elections.

Outlining his next campaign, Hazare said: "I will tour the country for the next one and a half years, and the moment the electoral code of conduct comes into force for 2014 Lok Sabha polls, I will sit at the Ram Lila Maidan, and the people will be out on the roads carrying the tricolour".

Hazare declared that he would join hands with Swami Ramdev to carry on with his movement.

"I am going to Haridwar on March 20 to address a gathering there organized by Swami Ramdev.... Change will come in India only when there is a change in the Lok Sabha", he said.

Hazare said the current Lok Pal bill passed in the Lok Sabha was a "nikamma" (useless) bill.

"Had the Jan Lokpal bill become law, ministers like P. Chidambaram would have been behind bars", he said.

Hazare denied reports that his movement was losing steam. "I have pictures to prove that more people gathered in our meetings in UP compared to the turnout in Rahul's election meetings."

He said, after the 12 days' fast at Ramlila Maidan, he was advised to be careful, but he chose to sit on fast again in Mumbai.

"I was taken to Sancheti Hospital in Pune, where I was given steroids and antibiotics, which harmed me. I went to Medanta Hospital in Gurgaon to get the aftereffects removed, and then went to Jindal Naturopathy Centre in Bangalore, where I underwent a full therapy. I am now 75 year young."

Hazare denied that there was a low turnout at his Mumbai fast.

"I have photographs to prove that the turnout was good, but the cameras showed parts of the ground which were vacant, because people were sitting in the shade."

Anna Hazare in Rajat Sharma's Aap Ki Adalat will be telecast on India TV on Saturday(March 17) at 10 pm and on Sunday (March 18) at 10 am and 10 pm.