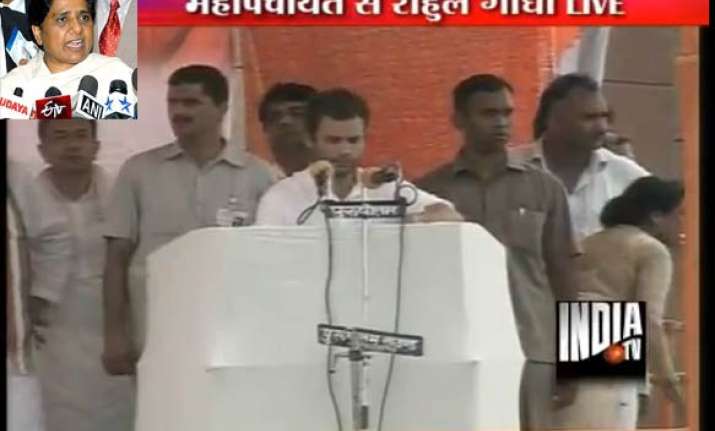 Lucknow, Jul 10: The ruling Bahujan Samaj Party on Saturday termed Rahul Gandhi's show of strength in Aligarh as a "flop show" and said that 80 per cent of those present in the maha panchayat were ticket-seekers for the Assembly elections and remaining 20 per cent were their supporters. 

The party accused Rahul Gandhi of misleading farmers. In a press release issued on Saturday evening, the BSP said that there were only 7,000 chairs in the pandal for the mahapanchayat. Hence, the Congress party's claim of one lakh people attending the event is completely baseless.

The BSP said during his four days of padayatra, the Gandhi scion assured farmers of bringing a farmer friendly land acquisition law, but on Saturday he said that the problem cannot be resolved in five minutes.

"The Congress has been ruling the country since Independence, but did not amend the Land Acquisition Act of 1894 and after Rahul's address at mahapanchayat, it became clear that his party is not serious in enacting a pro-farmer policy," it said.

The BSP said that Congress should follow BSP government's land acquisition and rehabilitation policy.

The BSP also raised question as to why Rahul Gandhi is not reacting to the pathetic conditions of farmers in Congress-ruled states like Andhra Pradesh.

Regarding anomalies in the implementation of MGNREGS in UP, BSP said that the state government had asked for Rs 7,700 crore, but the Centre sanctioned Rs 7,084 crore, of which only Rs 5,138.7 crore were released.

"While Rahul is alleging anomalies in implementation of MGNREGS in the state, the website of the union rural development department shows that UP is among the top states of the country, where the MGNREGS has been implemented effectively," the party said.

The BSP said it would demand tabling of land acquisition amendment bill in the monsoon session of Parliament. It also accused the Centre of not cooperating with UP on development issues, and said that despite non-cooperation, the state has produced record food grains.

The party also accused the Congress of adopting double standards on crime situation in various states.

The party pointed out towards rape and murder of girls in Delhi, Harayana and Maharashrtra and said that Congress should also send National Commission for Women and National Human Rights Commission teams to these states, as it has done in UP.

The BSP said that in Beed district of Maharashtra, a girl was burnt alive for resisting rape.

The party also said that Congress should take a lesson from Mayawati who has sent her own party MLAs, MPs and minister to jail, when they were found involved in crime and corruption.