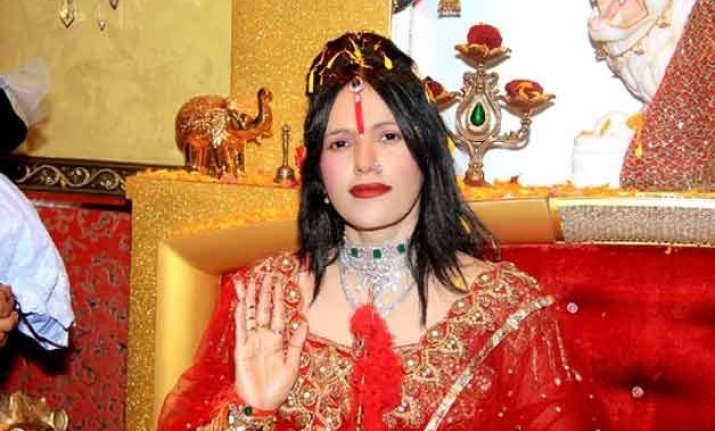 Mumbai: Controversial godwoman Radhe Maa was today granted anticipatory bail by Bombay High Court in the dowry case filed against her.
The court granted her a conditional anticipatory bail for two weeks. She has to appear before police on August 19 and 26 between 11:00 am to 1:00 pm.
She had moved to HC yesterday after a Mumbai court rejected her bail plea in the dowry harassment case.
Earlier in the day, she was interrogated by police at Kandiwali police station in suburban Mumbai in this case.
A team of four officers questioned the self-styled godwoman for nearly four and half hours on the complaint filed by a woman. The woman accused Radhe Maa, original name Sukhvinder Kaur, of instigating her in-laws, to demand dowry from her.
The 32-year-old woman alleged that she had been mentally and physically tortured by her husband's family at the instance of Radhe Maa.
Radhe Maa has denied all the allegations levelled at her and said she was being dragged into the matter only because the woman's in-laws are her devotees.
Dressed in her trademark red attire and wielding a trident, Radhe Maa arrived at the police station with her family around 12 pm. The interrogation started at 12:30 pm.
The police also questioned her on the obscenity complaint filed against her by lawyer Falguni Brahmbhatt. Police asked her questions on her pictures in red mini skirt that went viral on social media.
According to sources, the police asked her why, after claiming to be an incarnation of a goddess and having a title of Mahamandleshwar, she donned such dress.
She was also questioned about the location where these  pictures were shot. She was also asked to explain as to who took these pictures and who made them public.
Several complaints have been filed against the self-proclaimed godwoman at different places.
A BJP MLA from Gujarat Vasan Ahir has written to the state home department and demanded probe against her in connection with a case where seven members of a family committed suicide in Anjar tehsil of Kutch district.
Further in Mumbai, advocate Rajkumar Rajhans today filed a complaint with the Airport police station, alleging that Radhe Maa had carried a trishul (trident) with her at an airport and on a flight during her recent travels.
Other complaints against Radhe Maa accuse her of cheating, spreading superstition, hurting religious sentiments and buying a car with fake documents.