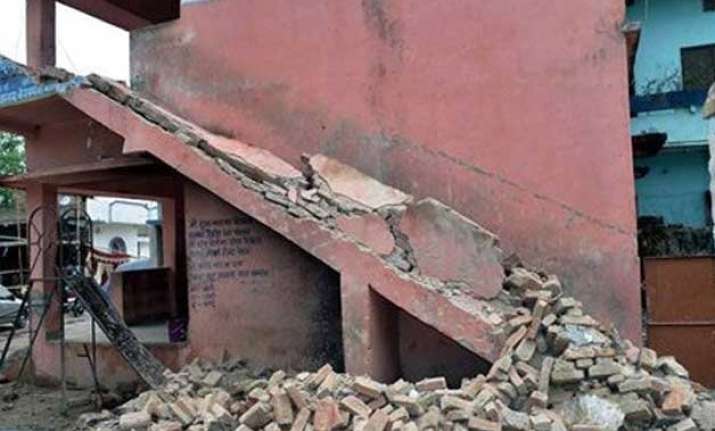 Patna: The toll in the two high-intensity earthquakes and 27 aftershocks that rattled Bihar has risen to 17 while 77 people have been injured.
"Till now, 17 deaths have been confirmed due to the earthquake, while 77 persons have been hospitalised with injuries. More information is still coming to us," Bihar Disaster Management Department (DMD) Officer on Special Duty (OSD) Vipin Kumar Rai told PTI today.
Patna and East Champaran are the worst affected districts with three deaths each. Two persons each died in Madhepura, Purnia and Darbhanga districts, while one each lost their lives in Sitamarhi, Vaishali, Siwan, Khagaria, Sheikhpura districts, the official said.
The maximum number of seriously injured persons was in East Champaran district, where over 25 persons suffered injuries from incidents of roof and wall collapse and while trying to escape from the buildings, he said.
"There have been reports of damage to several buildings. All districts in the state are currently assessing the damage to buildings and infrastructure due to the quake. We will come up with a detailed report soon," Rai added.
Several thousand people across the state spent the night in the open amid fear that more shocks will hit the region.
Indian Meteorological Department (IMD) Assistant Meteorologist B P Mandal stationed here said that Bihar has till now experienced 29 different temblors since yesterday afternoon.
"Of the 29 quakes, the highest was of 7.3 magnitude, followed by those of 6.3 and 5.1 magnitude. The rest were of intensities lower than these three," Mandal said.
Meanwhile, all government and private schools in the state have been closed for summer vacation from today following the directives of Chief Minister Nitish Kumar, who ordered the closure as a precautionary measure.
The DMD has rushed National Disaster Response Force (NDRF) and State Disaster Response Force (SDRF) teams to the affected districts to carry out rescue and relief operations.
Altogether, 58 persons had died in Bihar in the 7.9 intensity Nepal earthquake, which had hit the state on April 25.