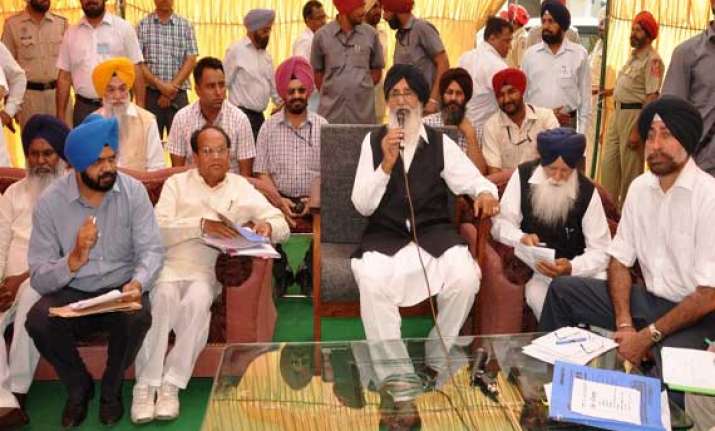 Chandigarh: The SAD-BJP government yesterday condemned the Centre's decision to exclude Punjab's Jats and Jat Sikhs from the benefits of reservation extended to these communities in several other states.
A resolution to this effect was passed by the cabinet at its meeting chaired by Chief Minister Parkash Singh Badal at Punjab Bhawan here.
A spokesperson of the Chief Minister's Office said the Council of Ministers had described the Centre's decision as "totally unjustified and step motherly" and another painful link in the long series of injustice and discrimination against the state.
The cabinet decided to declare Jats and Jat Sikhs of Punjab as "backward classes". It also decided economically weaker persons from among the general categories would also be extended the benefits of reservation.
These benefits would be in addition to the existing reservations and would not affect the quota structure.  The cabinet also decided to set up a commission to work out the modalities for implementing these decisions.  
It approved supplementary grants worth Rs 5101.68 crore for the year 2013-14 to be presented before the state Assembly during the ongoing session. The cabinet also cleared the proposal for seeking Vote on Account for four months from April 1 to July 31, 2014 for Rs 25,292.96 crore.  
In another significant decision, the cabinet approved to fill in 1,230 vacant post of Patwaris, of which 600 would be recruited in the current year and the remaining within the next two years.
It decided to enhance promotion quota from Patwari to Kanugos from existing 85 per cent to 100 per cent.  Likewise, the cabinet gave its nod to earmark three per cent quota for the promotion of assistants working in the offices of Deputy Commissioners to Naib Tehsildars by reducing direct recruitment quota from 50 per cent to 47 per cent.  
The cabinet also approved creation of 20 new posts of Tehsildars to ensure prompt delivery of services to the people at the district headquarters.