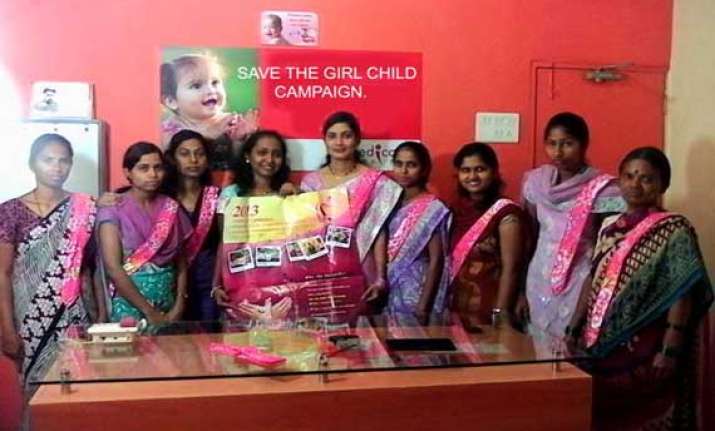 Pune: The peace in Pune's Hadapsar area was suddenly shattered by a man banging away at a steel plate with a stick and ward boys and nurses running on the street offering "congratulations" and offering local peda sweets to people on the streets.
The commotion was created by the staff of the Medicare Hospital to celebrate the birth of a female child.
Locals are familiar with Medicare Hospital's revolutionary policy of free delivery for all females born there, propounded by its founder and owner, Dr. Ganesh Rakh.
"We provide all women free delivery, whether normal or complicated, and post-delivery care - for every girl child born here, since 2007. Till date, we have supervised the birth of around 270 females here," a proud Rakh, 39, told IANS.
Terming it as his "solitary campaign (in India) to prevent female foeticide and empower women right from birth by fighting gender bias and prejudices", Rakh said the hospital gives such free deliveries despite incurring a loss of an average of Rs.10,000 for a normal delivery and around Rs.25,000 for complicated cases requiring surgery.
"In fact, many affluent families even offer money, but we direct them to help out the poorest women like labourers and domestic workers so they can avail of three months' maternal leave without bothering about work. Like other women are given three or six months post-delivery bed rest - don't the poor women also deserve the same privilege?" Rakh asked.
When he started the hospital in 2007, after begging for loans from friends and relatives, most people, including his family members, ridiculed his plans. "If you don't charge for female child's deliveries, how will you repay your Rs.1 crore ($166,000) loans," aghast lenders demanded.
The son of a labourer, Adinath (now, 67), and domestic worker Sindu (now, 60) Rakh who qualified as a medico in 2001, set up a roaring private practice, simultaneously completed his gynaecology specialization and went ahead with his pet plans from day one which was the birth anniversary of social reformer Savitribai Phule (Jan. 3, 2007).
Hailing from a very poor family in Solapur, his parents migrated to Pune in search of work. As Rakh was good in academics, he secured scholarships in school and college till his medical degree.
"It is now my turn to repay society," Rakh said, though jeered and scorned even by the medical fraternity and piling up losses.