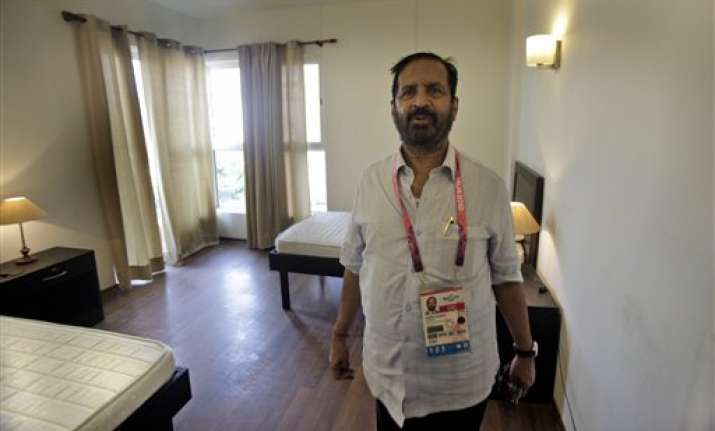 New Delhi, Feb 20 : Pained by reports of his alleged involvement in Commonwealth Games-related scam, former Organising Committee chairman Suresh Kalmadi today said he would resign as Member of Parliament in case any proof of him having taken even a single rupee surfaces.
"I can vouch that I have not gained financially even a single rupee out of these games and if proved otherwise I am prepared to step down as a Member of Parliament," Kalmadi said in a statement.
"I am deeply pained and constrained at the malicious campaign going against me regarding Commonwealth Games 2010. The stories going around are far from actual facts," he said in the statement.
Kalmadi, who was sacked as CWG OC head recently after Ajay Maken took over as the Sports Minister, also demanded the constitution of a Joint Parliamentary Committee to probe the  issues surrounding the Commonwealth Games if the government agrees to form a JPC in the 2G Spectrum controversy.
'Were the government to agree to constitution of a JPC into the 2G Spectrum issue it would only be fair a similar process of Joint Parliamentary Committee should go into the entire range of issues connected with preparations, executions and conduct of the Commonwealth Games. I am confident that this would enable the entire truth to emerge  in the public domain," said Kalmadi.
The IOA president, who is an MP from Pune, reiterated his oft-repeated claim that the OC budget was a very small amount of the total fund sanctioned for the Commonwealth Games.
"The OC budget for conducting the Games was just about 5 per cent of the total budget of CWG. In spite of this, I am the only one who have been singled out and targeted for investigations while the role of all other government agencies including Delhi Government and various other Central Government instrumental agencies connected with the decision making process, who have been associated with 95 per cent of the budget, have been completely overlooked," Kalmadi said.
'The sports fraternity -- from athletes to officials and international media -- have lauded the success of the Games and termed it the best ever CWG. Yet, my reputation has been greatly harmed by the continuous allegations  of wrong doing with regular media bashing.
 "It is a well known fact that even though the games were awarded in 2003, the actual work towards the games started somewhere in 2008, with the paucity of time on one side and reputation of country on the other side, there were pressures to complete and achieve target and deadline of 3 October 2010. I am thankful to the Hon'ble Prime Minister for his whole hearted support," said Kalmadi. PTI