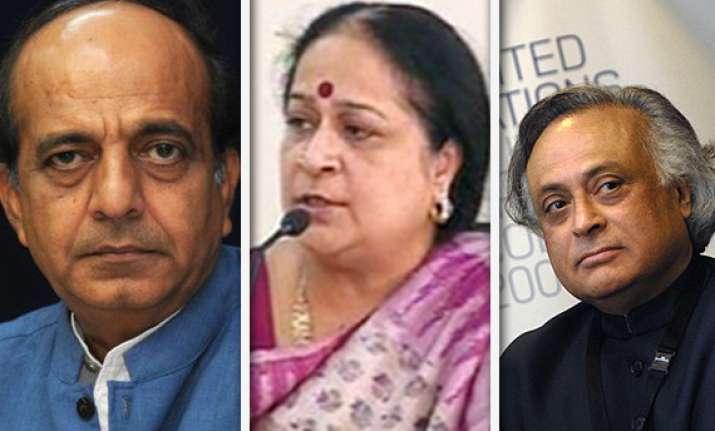 New Delhi, Jul 12: A trained pilot, Dinesh Trivedi has a challenging task ahead in putting the Railways on track after his boss and Trinamool chief Mamata Banerjee often came under attack for alleged neglect of this key ministry hit by train accidents in the recent days.

Known to be erudite and affable, Trivedi (61) has been with Banerjee since the inception of Trinamool Congress and was rewarded with a Cabinet berth for his loyalty to her.  Elevated from the post of minister of state for Health and Family Welfare, Trivedi steps into the shoes of Banerjee, who held the Railway ministry before becoming the Chief Minister of West Bengal in May. Prime Minister Manmohan Singh had been holding the Railways portfolio after Mamata's exit from the Centre.

Trivedi has been actively fighting criminalization in politics. He has filed several public interest litigations including Vohra Committee (The Right to Information Act is a fall out of his petiton on Vohra Committee). He is also actively involved in consumer protection movement. Trivedi had also reportedly offered to resign in a letter written to Anna Hazare within first few hours of his fast for a strong Lokpal bill at Jantar Mantar on April 5. Trivedi had told the social activist that he is ready to do anything to strengthen his fight against corruption. He has been associated with Hazare and Arvind Kejriwal since many years.

An aviation buff, Trivedi holds a pilot licence-flying training in India and advance training in USA.

Elected to the Rajya Sabha twice, Trivedi defeated CPI(M) heavyweight Tarit Topdar from Barackpur constituency in the 2009 Lok Sabha elections. He entered the Upper House on January one, 1990.

A former Congress man who switched over to the V.P. Singh-led Janata Dal, he did his B Com. from St Xaviers' College, Calcutta University and MBA from Univesity of Texas. He was actively involved in students' affairs in India and abroad, besides holding the post of President of International students association, University of Texas.


Jayanthi Natarajan: Jayanthi Natarajan, the only woman face from Tamil Nadu in the Congress and a known loyalist of the Nehru-Gandhi family, makes a comeback to the Union Council of Ministers after a gap of nearly 13 years. Natarajan (57) has an arduous task ahead since she steps into the shoes of high profile and activist minister Jairam Ramesh who had given teeth to the environment ministry which he held as independent charge.

Grand-daughter of veteran Congressman and former Tamil Nadu Chief Minister M Bakthavatsalam, Natarajan, was a practising lawyer in Chennai before she joined politics in the 1980s and has held a number of posts in Congress, including that of the party's national spokesperson for years.

She was noticed by the then Congress President Rajiv Gandhi who made her a Rajya Sabha MP in 1986. She was re-elected to the Upper House in 1992, 1997 and in 2008.

It will be a home coming of sorts for Natarajan, who will be the Environment and Forests Minister in the Manmohan Singh cabinet, as she is back in the Union Ministry after a brief stint as Minister of State for Civil Aviation under I K Gujral as a member of the Tamil Maanila Congress (TMC). Natarajan joined the TMC floated by late Congress veteran G K Moopanar in 1996 after differences with the then Prime Minister P V Narasimha Rao and was rewarded with a MoS berth for her loyality.

After their TMC merged with Congress in 2002 following Moopanar's death, Natarajan too joined the party and was made it spokesperson four years back.

An articulate speaker, Natarajan has often won kudos for communicating the party's views with ease and comfort before the cameras.

She had always been in the forefront fighting for women's rights and headed a Parliamentary Committee that looked into the Women's Reservation Bill.  She has also been involved with a number of social organizations including the All India Women's Conference, and the legal aid board.


Jairam Ramesh: Shifted from Environment Ministry, Jairam Ramesh was an activist minister who gave teeth to it and credited with bringing about a change in government's approach to progress and development but he courted controversies as well.

A no-nonsense high profile minister, Ramesh (57), an IIT alumnus and an environmentalist, was perhaps the country's first independent thinking environment minister who almost single-handedly put ecological issues on the top of UPA government's agenda.


But Ramesh often turned out to be the nemesis of development enthusiasts, especially promoters of big projects which had an environment cost, who felt his ministry was essentially an obstacle since he took over the ministry in May 2009 as part of UPA II government.

The silver haired and articulate minister was no stranger to controversy in the wake of a string of public gaffes by him with his critics often accusing him of putting his 'foot in the mouth'.

Ramesh recently kicked up a controversy claiming the faculty of the premier IITs and IIMs are "not world class" but the institutes are "excellent" because of the quality of students.

Ramesh was also slammed once for his "filth remarks" "Our cities are the dirtiest cities of the world. If there is a Nobel Prize for dirt and filth, India will win it, no doubt," he had said. The minister was referring to poor facilities for disposal of municipal waste and though he might not have been terribly off the mark, the comment did not go down too well.

Ramesh once got flak from the Prime Minister for saying India would match China in emission cuts. He later retracted and said India would not accept any legally binding emission cut targets.

On another occasion, Jairam termed wearing of gowns at convocations as a "barbaric colonial practice" and publicly shrugged off the gown he was wearing at one such function.


Paban Singh Ghatowar: It was a long journey for Paban Singh Ghatowar from his humble beginning as a leader of the tea tribe community in Assam to becoming a Minister of State with Independent charge in the Union Cabinet.

The five-time Dibrugarh MP first entered the Lok Sabha in 1991 after a long innings in the Indian National Trade Union Congress, Assam, where he was general secretary, working for the welfare of several lakh tea garden labourers engaged in over 1,000 tea estates.

Reacting to his appointment as Minister of State (Independent charge) in the DoNER, Ghatowar told PTI that he would try his best to work for the welfare of the eight Northeastern states.

"I will try to bring development to every nook and corner of the Northeast. All existing projects will be expedited on a priority basis with the active cooperation of the state governments," he said.

Ghatowar, 61, first became a Deputy Minister in the P V Narasimha Rao government and was later made a Minister of State for Health and Family Welfare.

The former Assam Pradesh Congress Committee chief has been elected to the Lok Sabha continuously since 1991 barring once and after his election in 2009, he was made the Chief Whip, Congress Parliamentary Party, Lok Sabha.  Ghatowar's wife Jibontara is an MLA in Assam.


Jitendra Singh: A first time MP, Bhanwar Jitendra Singh, one of the closest political aides of Rahul Gandhi, makes his debut in the Union Council of ministers to become the country's junior home minister.  The scion of Alwar royal family, 40-year-old Singh's proximity to the AICC General Secretary has given him a certain profile in politics.

Singh, who was elected from Rajasthan's Alwar constituency in the 2009 Lok Sabha polls, was one of the 10 candidates associated with the Youth Congress whom Rahul handpicked and gave a ticket.

The grandson of Sir Tej Singh Prabhakar(1911-2009), the last ruling Maharaja of Alwar, Singh was born as the "Bhanwar" (son of the Crown Prince) in the royal family of Alwar in Rajasthan. His father died in 1976, leaving him as heir apparent.

Before fighting the parliamentary battle in 2009, Singh was a two-time MLA from Alwar city and elected to legislative assembly first in 1998.

Alwar District Congress Committee President Ashok Dixit is elevated at Singh's achievement.

"Jitendra Singh is a soft spoken person and a dedicated parliamentarian who responsibly fulfills his duty as a public representative. People of the area are quite happy," Dixit said.

One of the secretaries of the AICC, Singh is seen as Rahul's pointsman in the Congress. He assists Rahul in handling Youth Congress affairs.

Trained in automobile engineering from Germany (he interned at the BMW unit), Singh's Lok Sabha victory was far from easy. Facing formidable opponents who had fielded a Yadav candidate to encash on the huge Yadav votebank and accusations of being inaccessible, Singh managed to beat the caste factor to emerge triumphant.

His family is settled in New Delhi but they visit their ancestral "Phoolbagh palace" in Alwar on a regular basis and he conducts 'Jan Sunwai' at circuit house for grievance redressal.



Sudip Bandopadhyay: From being a founder member of Trinamool Congress and chief whip of its Parliamentary Party to a berth in the Union cabinet as a minister of state, Sudip Bandopadhyay has come a long way.

A three-time Lok Sabha member, Sudip quit his Assembly seat of Bowbazar and made his maiden entry into the Lok Sabha on a Trinamool ticket in 1998 to become the party's chief whip in Parliament.

The 59-year-old leader had left Congress after Mamata split the party and formed the Trinamool Congress in 1998. Before joining Trinamool, he was the general secretary of the West Bengal unit of Congress and state youth Congress president from 1972 to 1976. He was a member of the AICC for 25 years from 1972.

But ever since he joined Trinamool, his relationship with Mamata saw many ups and downs. Then an MP from Calcutta Northwest, Sudip fell out with Mamata in 2003 following his attempts to bag a berth in Atal Bihari Vajpayee's cabinet allegedly without her approval and for hobnobbing with BJP. Mamata and Sudip turned bitter rivals when he was on the verge of being inducted into the Vajpayee cabinet then. Mamata, who was a partner in the then NDA government, derailed his chances, saying she was not consulted and accused the BJP of breaking the coalition dharma.

Trinamool expelled him in 2004 after he contested the Lok Sabha election as Congress-backed Independent candidate from the Calcutta North. Both Sudip and the Trinamool candidate lost, paving the way for a CPI-M victory. He joined his parent party on August 20, 2004 describing it as a 'homecoming'. He rejoined the Trinamool along with his followers months before the Lok Sabha election in 2009 dealing a blow to the state party After returning to the Trinamool, Sudip had said, "I took the decision to protest the humiliation and isolation I faced in the state Congress."

Born on October 1, 21,952 at Berhampore in Murshidabad district of West Bengal, he passed his BSc from a local college there. His wife Nayna is an actress-turned former legislator of Trinamool Congress.

Sudip was member of the state Assembly from 1987 to 1998 and from 2006 to 2009 from Bowbazar constituency in central Kolkata. He was elected to the Lok Sabha from now-abolished Calcutta North West constituency in 1998 and 1999 and from Kolkata North constituency in 2009. As the chief whip of the party in Lok Sabha and with his experience in parliamentary matters, he is seen as the Trinamool face in Delhi in the absence of Mamata after she became the chief minister.

He was known for his keen interest for beautification of the ghats along the Ganga in Kolkata and make the river pollution-free. PTI