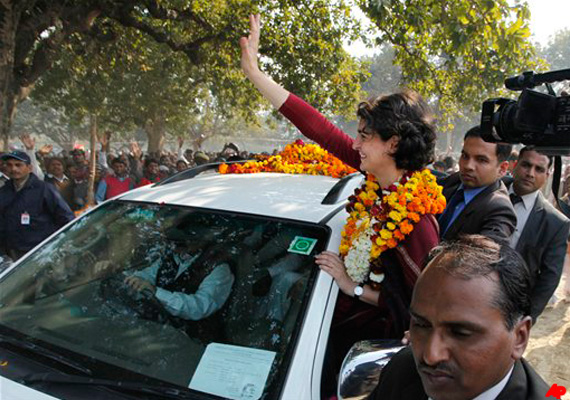 Sultanpur, Feb 12: Venturing out of twin constituencies of her mother Sonia Gandhi and brother Rahul for the first time, Congress' star campaigner Priyanka Gandhi today carried out a roadshow in Sultanpur to woo voters.

Priyanka started her roadshow from Lambhua, where Rahul addressed a meeting.

Rahul told the gathering that he was waging a struggle to change UP and was asking for only five years.

Appealing to youths, he said that the aim was not to achieve power, but Congress' agenda was to give youths employment in UP itself and rid its people of poverty and anarchy.

While Rahul left after Lambhua meeting, Priyanka continued with her roadshow at more than 12 places, covering a distance of more than 60 kilometres, party sources sources said.

Addressing the people at Barausa, the 40-year-old daughter of Congress chief said that Uttar Pradesh did not see development as there was no Congress government for the last 22 years.

"Elect Congress candidates as MLAs, form the government then only development of the state would take place," Priyanka said.

Priyanka has been, till now, leading the Congress campaign in Amethi and Rae Bareli, Lok Sabha constituencies of Rahul and Sonia.