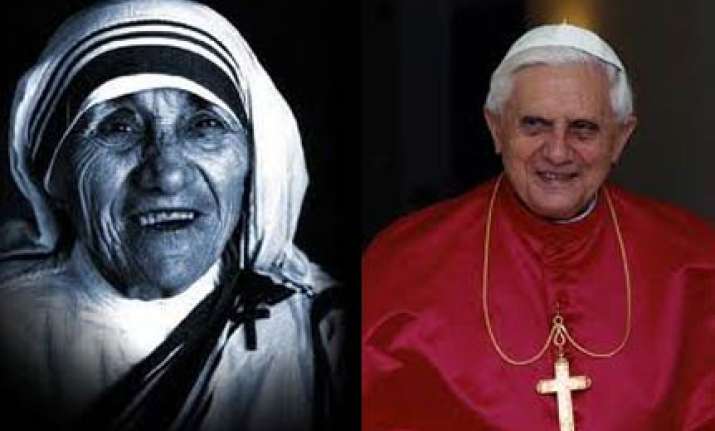 Kolkata :  Describing Mother Teresa as an "inestimable gift", Pope Benedict XVI has exhorted the Missionaries of Charity to draw inspiration from her in serving the poor, the sick, the lonely and the abandoned.  
"I am confident that this year will be for the Church and the world an occasion of joyful gratitude to God for the inestimable gift that Mother Teresa was in her lifetime and continues to be through the affectionate and tireless work for you, her spiritual children," the Pope said in a message to MoC superior-general Sr Prema.  
The message was read out by Archbishop of Kolkata Lucas Sirkar at the Mass offered this morning at the chapel of the MoC headquarters here.
Greeting the MoC on the occasion, the Pope said Teresa exemplified the message of St John -- "...If God loves us, we ought also to love one another. God abides in us and his love is perfected in us.  
"May this love continue to inspire you as Missionaries of Charity, to give yourselves generously to Jesus, whom you see and serve in the poor, the sick, the lonely and the abandoned," the message read.  
The Pope said he was spiritually joining the centenary celebrations. "I encourage you to draw constantly from the spirituality and example of Mother Teresa and in her footsteps, to take up Christ's invitation: 'Come be my light." PTI