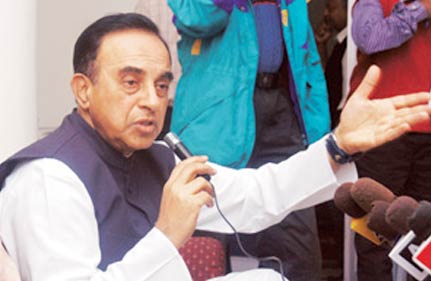 New Delhi, Nov 22: Janata Party chief Subramanian Swamy today accused the Law Ministry and government law officers of wrongly advising Prime Minister Mammohan Singh to wait for evidence before deciding on sanction to prosecute former Telecom Minister A Raja in the 2G spectrum case.
"It is regrettable that law officers of the government had failed to apprise the PM of the law of the land that he must decide on the sanction question only on the material provided by me," Swamy, who sought Raja's prosecution, told the Supreme Court in his nine-page affidavit, submitted to the court's registry.
The Prime Minister's affidavit to the court on Saturday had disclosed that the Law Ministry had advised him to wait for the CBI to gather the oral and documentary evidence before deciding on the question of prosecuting Raja.
Swamy also questioned the decision of the Prime Minister's Office to refer his plea to prosecute Raja to Telecom Ministry, terming it as "patently illegal" and against various apex court's rulings on the issue.
"The Prime Minister had forwarded my petition to the accused minister Raja for conveying his (the latter's) defence to me. Raja then wrote to him a letter dated June 18, 2009," said Swamy.
"This too is against the judgements of this court wherein it is held that in a petition for sanction there is no lis (dispute). Hence sending my letter of November 29, 2008 to Raja was patently illegal," he said.
Swamy also lashed out at the functioning of top bureaucrats working in the PMO, accusing them of trying to protect Raja and causing inordinate delay in deciding over his plea to prosecute him for allocation of the spectrum to alleged ineligible operators at throw-away prices.
"The affidavit under consideration (filed by the PMO) details the sorry state of bureaucratic affairs in the nation's highest seat of executive power, it appears to be geared to block any legal action against the corrupt acts of ministers," said Swamy in his affidavit.
"These officers have even flouted the Manual of Office Procedure [Volume II on Procedure in dealing with statutory matters, letters from persons and inter-Ministerial communications] which they are obliged to follow," Swamy pointed out.
Swamy also pleaded to the court to lay down firm guidelines to ensure that no plea by a private citizen seeking prosecution of the high and the mighty are frustrated by red tape.
While lashing out at the law ministry and the law officers for allegedly tendering wrong advice to the PMO, Swamy also targeted acting Telecom Minister Kapil Sibal, accusing him of having lack of legal knowledge.
"For example, it is a matter of national shame to see the current Cabinet Minister, in charge of DoT, on national television betraying ignorance of the 1984 historic judgement of the apex court that enabled a private complaint to be filed for cognizance in court after obtaining sanction," he said.
He was referring to the landmark 1984 judgement by a Constitution bench of the apex court in A R Antulay case. PTI