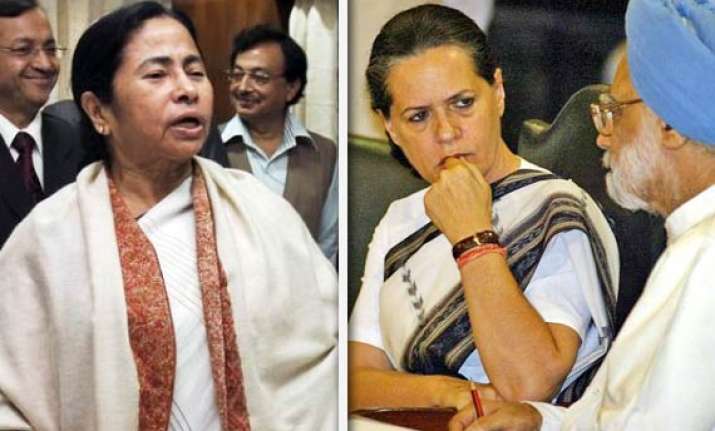 New Delhi, Dec 2: In an effort to break the logjam over the FDI in retail issue, Prime Minister Manmohan Singh and Congress President Sonia Gandhi today reached out to West Bengal Chief Minister Mamata Banerjee, the leader of key UPA constituent Trinamool Congress which is opposing the Centre's decision to allow FDI in retail.

Singh and Sonia Gandhi spoke to Banerjee.  PMO sources said  the phone call was made with an apparent aim of enlisting her party's support while citing the benefits the Centre's decision would accrue.

Trinamool Congress has been vociferously opposing the decision to allow 51 per cent Foreign Direct Investment in multi-brand retail and 100 per cent FDI in single brand retail.

The Prime Minister yesterday convened a meeting with leaders of Trinamool along with DMK, which is also opposed to the decision, but they remained unconvinced.  Singh gave no assurance on accepting the demand for rollback of the decision.

Trinamool Congress leader Sudip Bandopadyay, who represented his party at the meeting, later said the allies appealed to the Prime Minister to accept their request for rollback of the FDI decision.

"Sometimes allies may extend suggestions to bigger parties. It is not a Congress government. It is a combined government of ally parties," he had said.

Rejecting intense demands, the Prime Minister on Tuesday justified the decision on FDI as a well considered move aimed at creating jobs, improving remuneration of farmers and enabling import of technology besides benefiting consumers.

With DMK, Trinamool Congress opposing FDI in retail sector, the UPA government is faced with a dilemma as to how to bring about a debate on adjournment motion to be followed by voting in Parliament. Clearly, the UPA govt, in the absence of DMK and Trinamool support, lacks majority on this issue.

Meanwhile, the war of words between the Congress and Trinamool Congress continued today.

Railway Minister and Trinamool Congress leader Dinesh Trivedi today hit back at Finance Minister Pranab Mukherjee for his remark that narrow politics was hampering implementation of a policy framework on FDI in retail, saying people who "think with a narrow mind" consider it so.

"Jo narrow mind sey sochtey hain, unko narrow lagta hai (people who think with a narrow mind, consider it as narrow)," he told reporters outside Parliament House.  Trinamool Congress is demanding withdrawal of government's decision to allow 51 per cent FDI in multi-brand retail. 

Trivedi's comments came hours after Mukherjee had lamented that narrow political gains were hampering early implementation of a policy framework on FDI in retail even though it was being done in a calibrated and sensitive manner.  In a veiled attack on Mukherjee's reported remarks that opposition to FDI in retail was only political in nature, he said the Finance Minister was "very correct" as Parliament was a political institution.

"Parliament is not Lions Club or Rotary Club. It is a political thing. Constitution is a political constitution.  Managing the affairs of the country is political. We have a political system which is called democracy. This is not a canteen where we come and have a chit-chat. This is serious business and part of politics. So he is very correct. It is absolutely part of politics," Trivedi added.