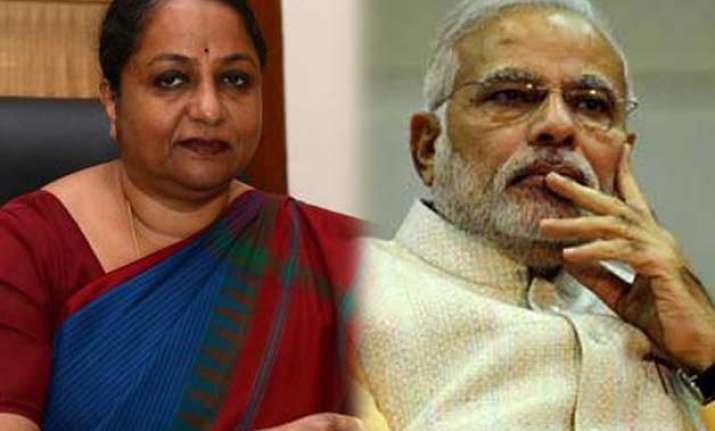 New Delhi: Prime Minister Narendra Modi was reportedly unimpressed by the former foreign secretary Sujatha Singh's efforts which led to curtailment of her tenure as Foreign secretary.
Sujatha has now sought early retirement from Indian Foreign Service.
According to reports available, it was her inability — or unwillingness — to make the necessary course corrections that annoyed Narendra Modi.
The rift between Singh and the PMO started when the BRICS summit declaration put in a paragraph critical of Israel, a country Modi has declared as a priority partner.
This was followed by India voting against Israel at the UNHRC — which was along the lines of the MEA's traditional stance, but very different from the stand of the new PM Modi led government.
PMO was also not happy at the quality of advice from the foreign secretary. She lacked in her follow-up after Modi's successful engagement with Japanese Prime Minister Shinzo Abe in September last year.
Denmark PM Helle Thorning-Schmidt was invited by the Gujarat Government to Vibrant Gujarat event but the visit failed to materialize because the MEA refused to budge from its stand that no high-level contact was allowed unless they resolved the issue of Kim Davy who was involved in Purulia arms drop case.
Despite the fact that Modi had a personal interest in the Danes, the Danish PM did not come and serious wrinkles appeared in the bilateral relationship.
Singh and foreign minister Sushma Swaraj built a working relationship, but since neither of them had any meaningful relationship with the PMO, the MEA began to be bypassed in major decisions on foreign policy. It wasn't long before the Sushma-Sujatha relationship also began to deteriorate.
Swaraj tweeted on Thursday that it was the government's decision to appoint Jaishankar, who had to be brought in before he retired on January 31. "Then I spoke to Ms Sujatha Singh personally," she tweeted, indicating that she was very much a party to the replacement decision.
Happy with Mr. Jaishankar's effort in rebuilding India-U.S. ties after the Devyani Khobragade incident, capped by the visit of U.S. President Barack Obama to New Delhi this week, Sujatha was informed that she would be replaced by Jaishankar.
Jaishankar is rated very well both by the Modi government and in MEA as a master strategist and an efficient implementer. He was also able to grasp the core of Modi's foreign policy which made him a valued member of the PM's foreign policy team.
The tenure of the former foreign secretary Sujatha Singh ended 6 months before prior to her retirement in August this year but she says she wanted to leave the office early.
Jaishankar's first trip will be to accompany Swaraj to China over the weekend. Swaraj will hold discussions with her counterpart Wang Yi. They will be joined by Russian foreign minister Sergei Lavrov for the Russia-India-China trilateral.
Jaishankar's elevation means Modi now has a direct connection with the ministry, which will also make Jaishankar a more powerful foreign secretary.