Follow us on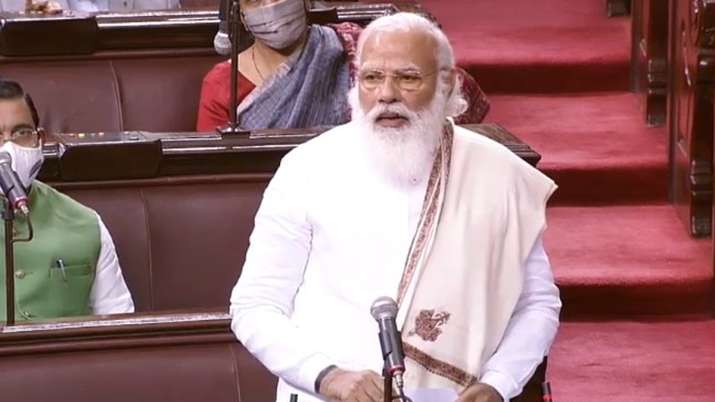 Prime Minister Narendra Modi on Monday slammed the opposition parties for boycotting President Ram Nath Kovind's address. On India's coronavirus vaccine, the Prime Minister said the country had fought an unknown enemy in the form of the coronavirus to save its citizens and the credit for winning the fight did not go to any government or individual, but the entire nation.
Taking a dig at opposition parties for boycotting the President's address, PM Modi said, "The message was still delivered." Over a dozen opposition parties had on January 29 boycotted the President's address.
He said that India is truly a land of opportunities. "Several opportunities are awaiting us, so a nation which is young, full of enthusiasm and a nation that is making efforts to realise the dreams, with a resolve, will never let these opportunities simply pass by," the PM said.
"The eyes of the world are on India. There are expectations from India and there is confidence that India will contribute to the betterment of our planet," he said.
Attacking the opposition, PM Modi said that when Congress MP Bajwa was speaking in such detail that "I thought he will reach Emergency (period) shortly and speak on it, he is just one step away from it. But he didn't go there. Congress disappoints this country a lot, you did that too".
"I was listening to Derek ji, he had chosen good words - Freedom of Speech, Intimidation. When I was listening to him, I was wondering if he is talking about Bengal or the country. He sees all this for 24 hours, so he might have said the same here too," he said.
COVID-19 period added new strength
The Prime Minister said that credit of winning war against Covid-19 goes to India, "not to the government or individual". He said that nations labelled as 'third world countries' are developing vaccines for humanity. He said that criticism is fine but "don't indulge in acts that can break confidence of the country". Corona warriors should be respected, he said.
"Largest vaccination drive against Covid-19 underway in India. World proudly says it has received vaccines from India," he said, adding that India emerged as pharmacy of world during pandemic, delivered medicines to 150 countries.
"India has seen days when there was a large threat of polio, small pox. Nobody knew whether India will get a vaccine or how many people will get it. From those days, we are now here- when our nation is making vaccines for the world. This increases our self-confidence," he said.
"The COVID-19 period has added new strength to our federal structure and the spirit of cooperative federalism," Modi said.
India's temperament democratic
He said that "India's nationalism is neither narrow now selfish and not even aggressive. This is inspired by the values of Satyam Shivam Sundaram". This quotation, he said, was given by Netaji Subhash Chandra Bose.
We have forgotten the ideals of Netaji. We have started cursing ourselves. I sometimes get surprised, world gives us a term and we start following it - 'Largest democracy of the world' - it feels good to hear this but we didn't teach our youth that India is the mother of democracy and this is our ethos. Our nation's temperament is democratic.
PM Modi siad that "we will have to rid ourselves of poverty if we have to progress". "We will have to do a lot more besides what we've already done. Once a poor person gets confidence, he will himself be empowered to do this," he said.
He said that India's democracy is not a western institution, it is a human institution. He said that India is not merely the world's largest democracy. 
Changes in agri sector to empower farmers
PM Modi further slammed the opposition parties over farm laws stir. He appreciated the contribution of former PM HD Devegowda on the discussions relating to agriculture in the House. He siad that his words have added great perspective to the debate. "He himself has a strong association with the agriculture sector," Modi said.
He said that since 2014 "we have initiated changes in the agriculture sector aimed at empowering the farmer". He siad that the crop insurance scheme was changed to make it more farmer friendly. 
PM Modi said that Rs 90,000 crore of claims cleared under crop insurance. This amount bigger than loan waiver. "Loan waiver does not benefit small farmers as they don't have banks accounts or take loans," he said.
"The PM-KISAN scheme was also brought in. We are working for the small farmers," he said. He said that Rs 1.15 lakh crore paid into account of farmers under PM Kisan Samman Nidhi and accused the Mamata Banerjee government of blocking the PM-KISAN in West Bengal.
He said that number of farmers with less than 1 hectare land has risen from 51 per cent to 68 per cent. There are 12 crore small farmers in country.
"India seeing record investment; nation to see double digit growth in otherwise gloomy world outlook," he said, adding that the World has seen Indian capability during surgical strikes.
PM Modi accuses opposition of U-turn on farm laws
On farm laws, PM Modi accused the opposition of U-tun. He said that former Agriculture minister Sharad Pawar, Congress party had favoured agri reforms. 
"Sharad Pawar ji, and those from Congress, everyone... all governments have stood for agricultural reforms. Whether they were able to do it or not, but everyone has advocated that it should be done," he said.
He said that despite record production, there are problems in agriculture sector and solutions have to be found together.
He said that Manmohan ji is here and I would read out his quote. Those taking a U-turn (farm laws) will perhaps agree with him. "There are other rigidities because of marketing regime set up in 1930s which prevent our farmers from selling their produce where they get highest rate of return...". "...It is our intention to remove all those handicaps which come in the way of India realising its vast potential at one large common market".
"Give agri reforms a chance, open to changes," the Prime Minister said. "Minimum support price (MSP) based agri procurement will continue and so will PDS."
PM Modi further said that "we mustn't forget what happened with Punjab. It suffered the most during partition". 
"It cried the most during 1984 riots. They became victims of most painful incidents. Innocents were killed in Jammu and Kashmir. Business of weapons was carried out in northeast. All this affected the nation," he said.
"The nation is making progress and we are talking about FDI but I see that a new FDI has come to the fore. We have to protect the nation from this new FDI. We need Foreign Direct Investment but the new FDI is 'Foreign Destructive Ideology', we have to protect ourselves from it," he said.
"This country is proud of every Sikh. What have they not done for this country? Whatever respect we give them will always be less. I have been fortunate to spend crucial years of my life in Punjab. Language used by some for them and attempt to mislead them will never benefit nation," PM Modi said.
As per the set norms, Prime Ministers speak in both the Houses -- Rajya Sabha and Lok Sabha while making an intervening in the debate on the Motion of Thanks to the President's Address. However, the opposition parties are protesting in the Lok Sabha over the farm laws due to which the proceedings are washed away. No discussion could take place in the Lok Sabha. 
Earlier on January 29, more than a dozen opposition parties had boycotted the President's address. The President's address to the joint sitting of the Houses marks the commencement of the Budget Session. Debate on Motion of Thanks has happened smoothly in the Rajya Sabha with the government and the opposition agreeing to discuss the issue in the Upper House for a total of 15 hours.
READ MORE: 'People in a particular state misinformed': Tomar blasts opposition for impasse over farm laws
Last week, the government strongly defended the farm laws in Rajya Sabha and said its offer to amend them should not be viewed as if they had any flaws. The opposition parties are demanding that the legislations be repealed and fresh ones brought after consultations.
Intervening in the debate on the Motion of Thanks to the President's Address, Agriculture Minister Narendra Singh Tomar launched a fierce attack on the Congress and other opposition parties for trying to instigate the farmers with wrong information. He alleged that farmers were being misled by the opposition and the agitation was only in one state.
As many as 50 speakers from 25 political parties participated in the debate in Rajya Sabha on the Motion of Thanks lasting over three days in the past week. While 18 members of the BJP took part in the discussion, seven Congress MPs and 25 from other Opposition parties also spoke. Tomar, along with two other union ministers, has held 11 meetings with farmers' representatives in wake of the ongoing protests. But the deadlock continues.
Meanwhile, the first half of the Budget Session will end on February 13. The second and final half will take place from March 8 to April 8.
READ MORE: Tomar counters 'misinformed' Pawar, says 'new farm laws won't affect MSP, mandis'
READ MORE: Farmers' Chakka Jam ends with no big impact, Rakesh Tikait's ultimatum to govt