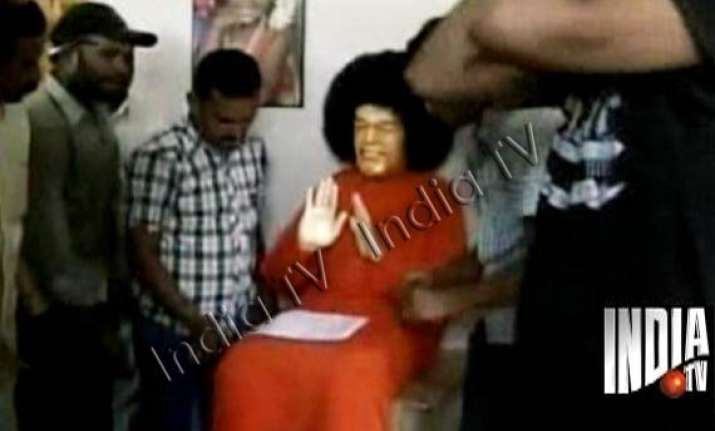 Puttaparthi, AP, Apr 20: Devotees of Sathya Sai Baba, presently critical in the Sathya Sai Institute of Medical Sciences for the last one month, have noticed perfumed water coming out from the feet of a wax statue of the baba at the house of B. Narayana Swamy, a retired Deputy Tehsildar here, reports India TV reporter Narsimha Rao.
 
This was first noticed by Rahim, a sculptor staying as tenant in Narayana Swamy's house on Tuesday morning.
 
Rahim had built this wax statue in November last year after, according to him, Sathya Sai appeared to him in his dream and instructed him to make a statue.
 
Rahim's wife first noticed oil coming out from the statue's feet n Tuesday morning and told her neighbours, after which the news spread through word of mouth.
 
A devotee showed both her palms  full of perfumed oil after she touched the feet of the statue.
 
Not only devotees, but a large number of policemen who have come to the house are  taking the oil and putting it in their hair.
 
The wax statue is four feet tall and experts believe that the perfumed oil may be coming out  due to summer heat melting the feet of the statue. 
 
But Sathya Sai devotees believe otherwise. They say this is a miracle.
 
Narayana Swamy, the house owner, himself a devotee of Sathya Sai, says this is a miracle and he believes the swami will recover soon.
 
Experts are confused about why perfumed oil is coming out only from the feet and not from the other parts of the statue, if summer heat melting the wax statue could be the scientific reason.