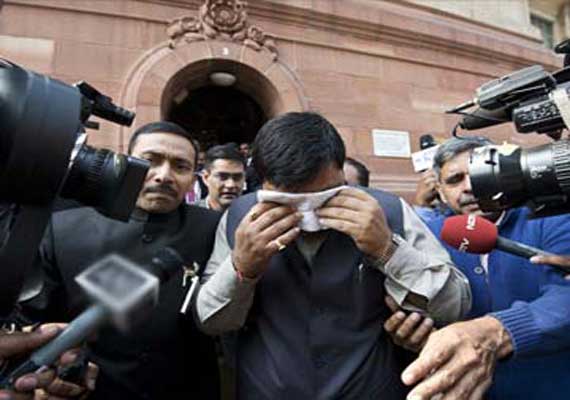 New Delhi: Holding the government responsible for the "disgraceful" and "unforgivable" pepper spray incident in Lok Sabha, MPs today demanded action against those involved.
"I have never seen this type of incident during my time in Lok Sabha. The government is responsible for the incident.  This is disgraceful, unforgivable," senior BJP leader Jaswant Singh told reporters outside Parliament.  BJP leader Sumitra Mahajan, who was seen coming out of the House with a handkerchief wrapped around her face, also blamed the government for the bedlam.
"The government is insensitive to the matter...there is heightened tension in Andhra Pradesh and I think the government realises this," she said.  "Why is the government not solving the issue through talks? I have never seen such a situation during my stint in Parliament," she said.
Describing the incident as "undemocratic", JD-U chief Sharad Yadav branded the spraying of pepper as "treason" and demanded strong action against those involved, saying all rules and laws "are in the hands of Parliament".  "The incident cannot be described in words...it cannot be forgotten so easily," he said after meeting Prime Minister Manmohan Singh.
"The spraying incident happened when I was there to protect the MPs. I stood there and feared for the health of the Lok Sabha Speaker and the Secretary General," he said.  Hitting out at the government for the pandemonium in the House, he said it has "destroyed" the entire session and "demolished the democratic system" in its attempt to pass the Telengana Bill.