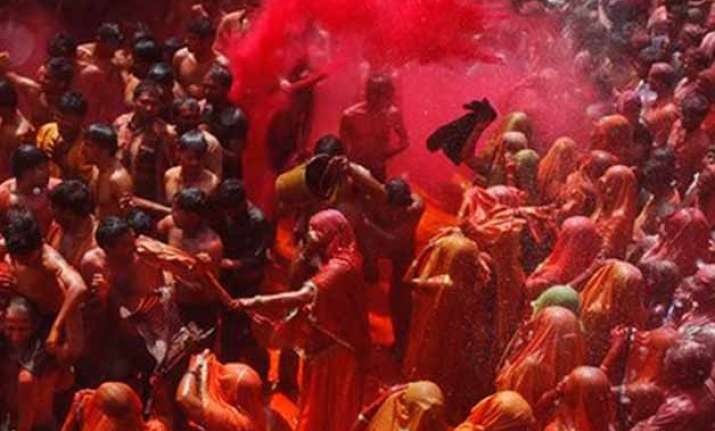 Patna: Holi was celebrated with full fervour and gaiety in Bihar with people playing 'gulal' and seeking blessings from their elders.
Men, women and children of all age groups came out to meet and greet each other with a wide range of colours. Groups of youths roamed on the streets celebrating and calling people to join them in the festivities.
Revellers danced to Holi songs at various points on streets, rooftops and apartment basements, indulging freely in 'bhaang' laced 'thandai'.
Various Holi delicacies like 'malpua', 'dahi vada', 'kachori', 'nimki' and 'gujhia' were made at households. These were offered to Gods and Goddesses, especially Lord Krishna and Vishnu, and were then devoured by kids and adults alike.  The celebrations were peaceful across Bihar, except sporadic incidents of clashes between revellers in which a few persons suffered minor injuries. The police forces, present at all strategic locations, managed to contain the situations from escalating further.
People visited their friends and relatives on the occasion.
Leaders of various political parties extended their individual greetings to the public in the poll year, as the state is expected to witness a tough battle of ballots after about seven months.
However, political colours were missed in the state capital, as Chief Minister Nitish Kumar cancelled Holi celebrations at his official residence at 7, Circular Road due to the demise of former Chief Minister Ram Sundar Das.  Das died due to old-age related problems today. He had headed the Janata Party government in the state from April 21, 1979 to 17 February 1980. He had also twice been member of the Lok Sabha from Hajipur constituency. He will be cremated tomorrow with full state honour.