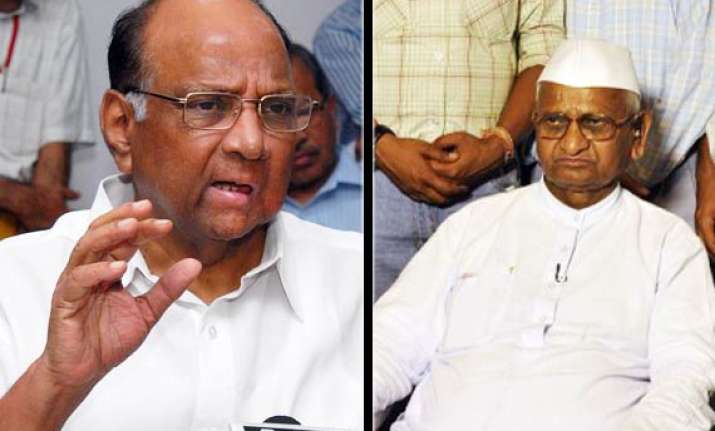 Mumbai, Nov 25: In a veiled attack on Anna Hazare, Agriculture Minister Sharad Pawar today said attempts to show "disrespect" to Parliamentary institutions could be a reason for the assault on him.

Addressing a press conference here, the NCP President said he was not blaming any political party for the attack on him in Delhi yesterday (His ally Congress had sought to link the incident to BJP).

"I have no proof to say this and hence I am not taking a political approach on the matter. However, attempts to show disrespect to Parliamentary institutions could a reason of the attack," Pawar said.

The NCP leader declined to take Hazare's name, saying he has never commented on his statements.  People in certain quarters have accused Hazare's anti-corruption campaign of undermining democratic institutions. 

Asked about Maharashtra Government engaging the social activist on policy decisions in the past, Pawar said it was the duty of the Government to engage people from different walks of life, but it should know whose suggestions to take.  "I have always kept that in mind," the former Chief Minister maintained.

"Such people are exposed some time or the other. If democratic institutions are continuously attacked, it will lead to anarchy. It is wrong to say that what I say should be implemented. Individuals are not important."

Pawar admitted certain policy decisions may have proved wrong in recent times and come under the scanner of the courts. "However, Parliament is important and it was to be respected otherwise democracy will have to pay a heavy price.  People should bear this in mind."

Speaking about yesterday's incident, Pawar said, Delhi police have informed him that the attacker was upset with his stand on issues of agriculture produce.

"I have always maintained that farmers should get maximum profits for their produce. If people misunderstand this, Parliament is the right place for debate," he said.

He said that even though he finds security troublesome, he would abide by the Union Home Ministry directives.  Pawar admitted that Parliamentarians have to introspect on the need to protect the dignity of the institutions. 

He said the demand for right to recall the elected representatives would lead to instability, which the country cannot afford.

"So far, the winter session of Parliament has seen smooth functioning during a condolence motion and today's debate on attack on me," the NCP leader said.  P

awar said, there is a proper system to highlight issues in a democracy. "We got this right, because we are a democratic country. If we don't take care to protect our institutions, it will be harmful," he said. 

"I would like to thank Maharashtra politicians for speaking in one voice today," he said.  Speaking on the cotton issue, the Union Agriculture Minister said the Centre has recently hiked the minimum support price to rs 300.

"Except Maharashtra, there is no problem in cotton growing states like Gujarat, Madhya Pradesh, Andhra Pradesh, Karnataka, Punjab. Maharashtra's problem is different and problems can be resolved permanently, if maximum area comes under irrigation in Vidarbha," he said. 

Pawar said, Punjab has given additional bonus of Rs 50 per quintal. Maharashtra is also considering giving assistance, following the local bodies elections next month.