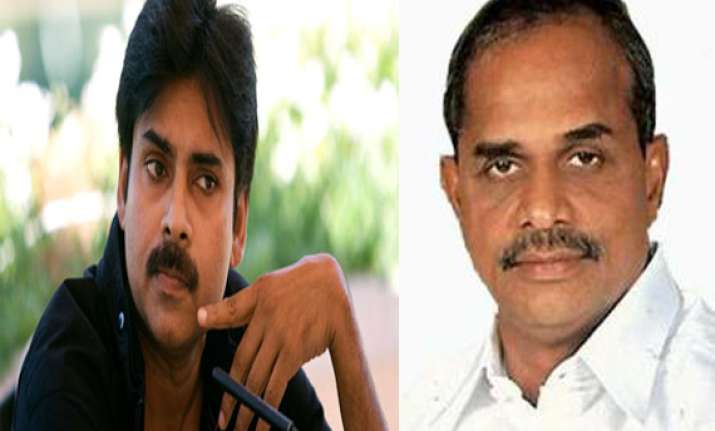 Rajahmundry (AP):  Actor-turned politician and Jana Sena Party leader Pawan Kalyan, who is supporting BJP's PM nominee Narendra Modi, yesterday said the division of Andhra Pradesh was "taken up" by family members of former chief minister and Congress leader YS Rajasekhar Reddy.  
"The division of Andhra Pradesh was taken (up) by Rajasekhar Reddy and his family members including (his son) Jaganmohan Reddy who is the president of YSR Congress Party, and not by Union Minister K Chiranjeevi," Pawan said while addressing a well-attended rally in support of BJP-TDP alliance candidates at Subramanya Grounds here.  
Dismissing reports of acrimony between him and his brother Chiranjeevi, Pawan said the latter was like a father figure for him.
Pawan alleged Jagan and his firms had encroached upon huge tracts of land in the state when Rajasekhara Reddy was the chief minister.
He also criticised Jagan's media organisation for "deceiving" people.
"If you vote for YSRCP you will not get 'ram rajyam' (good governance), but you will (get it) if you cast your vote in favour of the BJP-TDP alliance," he said.  Pawan said Jagan had "failed" to protect the self respect of Seemandhra people.
Criticising Congress for "messing up" the division, Pawan said, "It is incumbent upon people of residuary Andhra and Telangana to maintain a cordial relationship as both are Telugu-speaking people.
People from both the states should live like brothers even after bifurcation".  Pawan said if parties failed to fulfil promises they were making to people, Jana Sena Party will hold agitations against them.
Pawan also lashed out at TRS chief K Chandrasekhara Rao for "taunting" people of Seemandhra even after the division is materialised.
"I am not scared of KCR's remarks. My fans will look into the matter and take action," he said.  "Why KCR has not spoken a single word against Rajasekhar Reddy who looted Telangana?..." Pawan said.