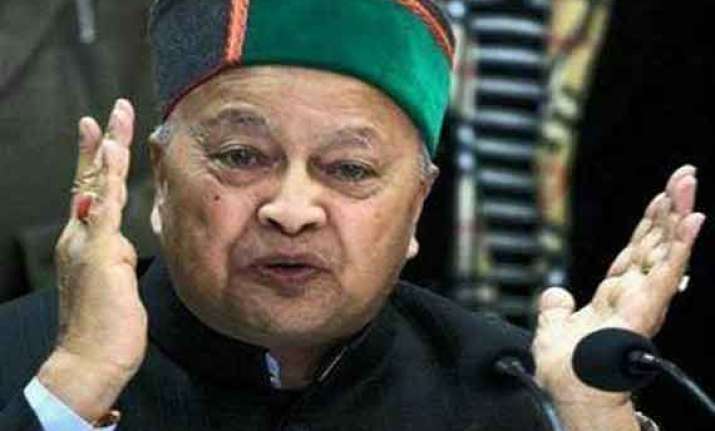 Shimla : Chief Minister Virbhadra Singh yesterday said that his patience was running out over BJP's persistent personal attacks against him even as he asserted that he would not allow the opposition party to turn the state Assembly into a "playground for unleashing of political vendetta".  "My patience is running out.
It is the fight of former CM Prem Kumar Dhumal's family against vigilance inquiries and he is getting all BJP members involved in it," Singh said, urging Speaker BBL Butail to take cognisance of the objectionable conduct of BJP members.
"I have not become CM because of Dhumal but despite him.  If he is angry... he should not use the august House to vent his anger," he added.
Singh said that whenever Dhumal had become CM of the state, he had tried to frame him in false cases.  "Both the times that Dhumal became CM, he carried out a personal vendetta against me. But I was acquitted honourably (by courts) every time," he said.
Meanwhile, talking about charges against BJP leaders, Singh said that his government was conducting a "free and fair probe" in the matter and denied any political vendetta.  
He said that the charge sheet against BJP, submitted by Congress to the President of India, was prepared by a panel headed by Transport Minister GS Bali of which he was not even a member.
"They are shouting slogans against me. Who will tolerate this? They cannot hold the House to ransom like this.  "If they behave like 'tondas' (local expression for rogues), we too know how to be super 'tondas'," he added.  Earlier, Industries Minister Mukesh Agnihotri slammed the BJP for failing to maintain the high tradition and decorum of the House.
"If they want to raise issues, they should do it within the rules. They are wasting time which could be meaningfully utilised for raising public issues," Agnihotri said.  Congress members Asha Kumari, Sanjay Rattan and Nand Lal urged the Speaker to take strict action against the BJP members for violating parliamentary norms and resorting to the politics of character assassination.