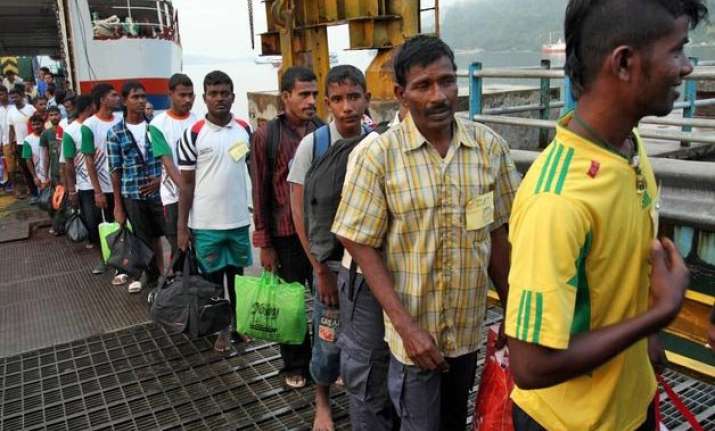 Ramanathapuram: Parliamentary Standing Committee on Personnel, Public Grievances, Law and Justice would recommend to the Centre to grant Indian citizenship to Sri Lankan Tamil refugees who want to remain in the country, its Chairman E M Sudarsana Natchiappan said yesterday.
He said the committee has come across divided views by the refugees on the question of returning home with some sections wanting to acquire Indian citizenship and others putting conditions such as assurance for lives to go back.
Natchiappan, who held discussions with refugees and fishermen on their problems here today, said some sections had come to India fearing for their lives and if the Sri Lankan government provided them assurance regarding education and employment, they were willing to go back.
The Indian government should also give them assurance for their lives, they said.
Some others said that they had children born in India and also married here and wanted Indian citizenship, he stated.
The committee would recommend to the central government to give citizenship to those who wanted to stay in India. The other views expressed by the refugees would also be taken to the government's notice, he said.
As per a survey conducted by an NGO, seventy per cent of the refugees were willing to go back to their country while twenty per cent wanted to remain here, he said adding that ten per cent were willing to go back with some conditions including that they would given equal right.
"If they are willing to go back, they will be sent back and there would be no pressure," he said.
Masiladevi, a refugee, said government should not show any urgency in sending them back.
She said that 13th amendment to the Sri Lankan Constitution on devolution of powers should be implemented and the Lankan government should rehabilitate those refugees returning home.
The Indian government should take care of them while sending them back, she added.
Another refugee Chandramohan said he educated his two sons well in India. His wife and sons had gone back to Sri Lanka. But people still live in refugee camps there.
Sri Lankan government should withdraw Army from northern areas and Tamils should be given equal right, he said.
Regarding fishermen's problems, Natchiappan said their associations demanded setting up of fishing harbours in Thangachimadam and Pamban.
He was of the view that the Sri Lankan and Indian fishermen should take turns to fish in the Palk Strait. If the fishermen from the two countries met once in a year, the problem between them could be resolved.
He assured that action would be taken to get the release of 87 boats detained in Sri Lanka.
He also suggested resumption of ferry service between Rameswaram and Talaimannar in Sri Lanka, stopped 35 years ago.