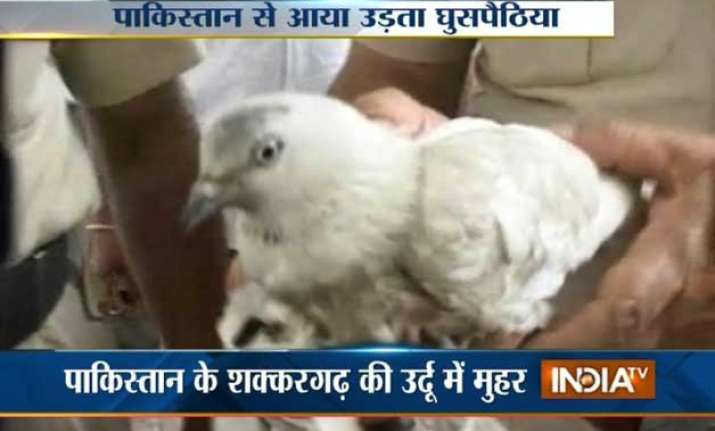 Pathankot: A posse of gun-toting men in uniform guard the fidgety 'intruder' from Pakistan who has created a flutter in Punjab's Pathankot.
This 'spy' has even gone through an X-ray examination to find out if it is hiding something.
Make no mistake, this suspected cross-border trespasser is no terrorist out to create disturbance but a dove, usually associated with peace.
The white-coloured pigeon, with Pakistani seal and Tehsil Shakargarh, district Narowal stamped on it in Urdu, was spotted and caught yesterday by one Ramesh Kumar from his house at Manwal village on the Indo-Pak border.
As the bird looked 'suspect' due to the Pakistani marking, Ramesh took it to the Bamial police station.
Pathankot Senior Superintendent of Police Rakesh Kaushal said he suspected that the pigeon had indeed landed on the Indian soil from Pakistan. When asked if the bird had any message attached to it, Kaushal said nothing of that sort had been found.
"However, we are conducting investigations," the officer said, adding pigeon fanciers in the sensitive border area have told the police that Pakistani doves were easily distinguishable from their Indian brethren.
Until the investigation gets over, the intruder will cool its heels at the Indian police station on a wing and a prayer. The X-ray examination of the pigeon has not made any revealation.
A polyclinic in Gurdaspur is examining the numbers and the address stamped on its feathers. Till the investigation is completed, the intruder will cool its heels at the police station on a wing and a prayer.
In March, a pigeon was found near the border with Pakistan in Gujarat with a chip on one leg, a ring with a code on the other leg and some inscriptions on its wing.
(With inputs from PTI)