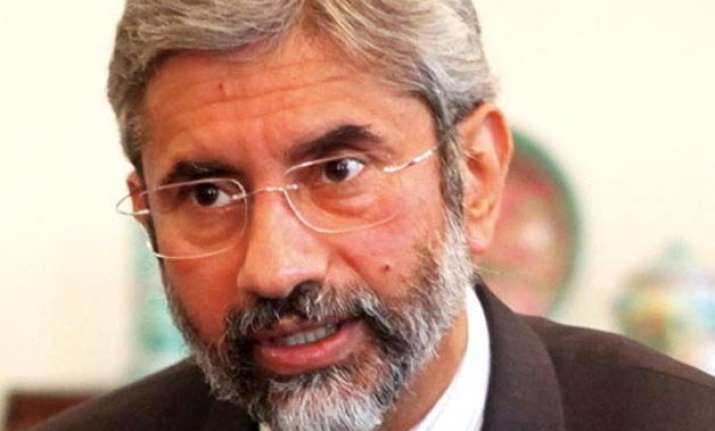 New Delhi: India today indicated that action against terror by Pakistan will take priority over talks with it in the aftermath of the Pathankot strike that had prompted the postponement of the Foreign Secretary-level talks.
"In the aftermath of a terror attack, if you ask me what do you give priority to, a terrorist attack or a diplomatic dialogue, I think the answer should be obvious," Foreign Secretary S Jaishankar said.
Jaishankar was speaking at the Raisina Dialogue, a joint initiative of the Ministry of External Affairs and a leading think tank in New Delhi -- on whether FS talks between the two countries were linked to action by Pakistan on information given to it by India on Pathankot terror attack.
Jaishankar said both the countries were in touch with each other following the Pathankot attack, primarily at the level of National Security Advisers and to a certain extent between him and his Pakistani counterpart.
The Foreign Secretary said "parallel processes" are at works.
Reiterating PM Modi's peace initiative with Pakistan, he also said both countries cannot sever their ties but one cannot clap with only one hand. Indian wants the same relation with Pakistan as they want with other neighbour countries.
India had blamed terror group Jaish-e-Mohammed for the Pathankot attack and sought action against the perpetrators of the strike which had led to the postponement of Indo-Pak Foreign Secretary-level talks.
India had said Jaish-e-Mohammed chief Masood Azhar masterminded the attack.
Talking about overall Indo-Pak ties, he said India was for a "much more modern relationship" with Islamabad but for that to happen there was a need to have change in attitude towards a number of issues of which terrorism is a "central" one.
Underlining the need for better connectivity between India and Pakistan, he said, "It takes two hands to clap" and that India would like to have same kind of ties with Islamabad like with other neighbours.
"Most people in this country wants to treat Pakistan as a normal neighbour. So we would like to do with Pakistan what we do with everybody else. But the fact is that there are obstacles and we know what the obstacles are," he said, emphasising on the need need to remove the obstacles.